|<oma!<ino-›#o, #1, #2, #3, #4, #5, #6, #7, #8, #9, #1o
(¯`·.¸¸¸.·´¯`·. ¸¸¸.·´¯`(¯`·.¸¸¸.·´¯`·. ¸¸¸.·´¯` (¯`·.¸¸¸.·´¯`·. ¸¸¸.·´¯` (¯`·.¸¸¸.·´¯`·. ¸¸¸.·´¯`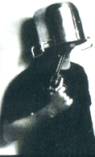 Notorius - La danza dei nervi (cd '99, Valium Rec) - Well, i don't love italian sung, sincerely. What can i do? It distracts me, too. And, as regards me, it ruins a lot of potentially good italian band. Anyway, Notorius kick, - on the middle of panico You need to stand up and clapping (or, better, you can begin jumping wild), as well as before title trk end. Unfortunately, as i said, their italian ruin a lot that kind of pathos, and sometimes hammond seems, is, out of place. Think about it. Musically, they play a sort of hc core, an high quality hc, destructive with their loads, and slow and measured uniquely on the instrumental, - as it was a small break before exploding again, especially as regards their voice, quarry of treble picks and a distortion. Ok, it's not easy to be original doing hc, but Notorius maybe could do it. I'm sure that from live they're 'na cambogia [read ohmygodnooOOOOOOooo!!!] Info --> diego@cambio.it, valium rec. v. nomentana, 113 – oo161 roma, robegagl@tin.it ___yrkomakino@gmail.comby Paolo Miceli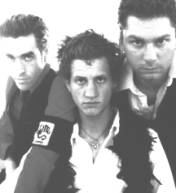 Slaves - Devil's Pleasure (cd '99 Troubleman rec) - - Slaves are a narcotic Band, - Their music is a intangible barbituric. They wrap listeners into a vicious and loving embrace, - an infinite and struggling storm in the desert, - a slow walk in a direction of the impossible, - a too believable mirage, - the one of Name of man, between stretched gtrs, violins and percussions. Oscularum infamι is a spectacular intro, numbers x visionaries, an exact seance looks like a correct hypnotic version of something in the way, Nirvana (but that doesn't mean what You thinking, - be sure They've nothing to do with Nirvana). Slender's spires attacks, and it seems to imagine the Band playing live on the stage of a small club, dark and infernal, lost in a gloomy autumnd night, kind of workmen's club for this psychoworld - small glasses for hard liquors on the tables, pappa with cigar by mouth, toppless waitress dancers, - and strange watery and smokes coming from behind toilettes doors. hm? ok, this is a personal vision... They can make You dream. Before this cd: --> '90 self titled for Irs rec, --> 94 Temperature - flame tree rec. Info --> sound-for-slaves@excite.com - website --> http://home.earthlink.net/~traumender - Troubleman Unlimited, 16 willow st. bayonne, nj o7oo2, usa. www.troublemanunlimited.com. ___yrkomakino@gmail.comby Paolo Miceli
Slaves/Notorius – Teatro Sexy Movie (45gg Valium/Nausicaa rec) – On this 45 rpm, these two band split side a & b. About Slaves, few thing to add, - also here They play an excellent song, little hell style (right back down in the middle), really-really great - wow. On the other side, Notorius play despite their cd a different way of being, - no more hc - they also look Mephistophelean (Slave's song and their have something in common here), - and that kind of church-organ is used @ its best, really evilish, - but, i repeat, i don't like their voice, nothing doing with the music. I read on E.P. o.5 They disbanned after a european tour with Slaves. Info: Valium/Hellnation rec – v. nomentana, 113 – oo161 roma, www.hellnation.it - Nausicaa – v. Mazzini, 14 – 31o29 – vittorio veneto.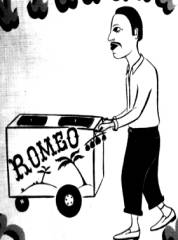 Hazel/Ovarian Trolley (7" – '97, candy ass rec) –
I always promised to my-self to go looking for Hazel's stuff somedays, 'cause They're one of that great Bands whose, for some unknown reason, i got quasi-nothing, just some cool mp3's and a beautiful cover song from a Wipers cd tribute. On this orange trasparent 7" (lp vs cd match: 1 to 0!), They split a good punkrock&roll song called incendiary, spent on flaming gtrs and an indie_chart chorus. They split this disc with romeo, by Ovarian Trolley, a luv-song of a littl girl about an ice-cream man - senor helado te adoro – Jennifer and Laurie Hall sweetly whisper in spanish, a bit à la Breeders, between slow romantic riffs and distorted and quicker chorus. Yes, what the hell of end will their love-story do when winter will come, and he has to go south?

Infranti – s/t (Lp, 7x – halley rec - £15.ooo) - Personally? What a balls - C'mon, i said "personally". But, if you are into sonic syncopatic dynamics, avant-postrock style (what a bad word!), not just minimalistic, but, more correctly lean, with a sung of CCCP memory, - well, it's all said. They know how playing their instruments, technically, - especially the bass-guitarist, - he uses some great riffs, - but songs are too similar and tiring, - as well as massacring beats from drums (and i listened the cd with my headphones!). A minimalistic rancid gtr and a wedding between battery and bass, - and a voice - but lyrics play a guiding role. Another production from halley rec, anonymous @ 99%, without texts as well as line-up, - and a cd-packing as it was a airways ticket. Before this cd they split a 7" with Geyser, always available on halley catalogue. On Equilibrio Precario o.5 (in italian) there's a long interview with their singer. Not here. Info: Halley Rec c/o cp 35o3o Vς (Pd) – Italy – email: oncrinoide@yahoo.it - www.halleynation.com