|<oma!<ino-›#o, #1, #2, #3, #4, #5, #6, #7, #8, #9, #1o
(¯`·.¸¸¸.·´¯`·. ¸¸¸.·´¯`(¯`·.¸¸¸.·´¯`·. ¸¸¸.·´¯` (¯`·.¸¸¸.·´¯`·. ¸¸¸.·´¯` (¯`·.¸¸¸.·´¯`·. ¸¸¸.·´¯`
Cadabra - Second Skin (3+1 trx gen/may 99 £ 5000) - Pop new-wave. Forse anche un pò easy. Everything sounds very 80s, with explicit recalls overthere. Flanger, gloomy atmospheres, keyboard/synth between early Depeche Mode, Alien Sex Fiend and Love Is Colder Than Death, electronic drms and not. Gtr is not always happy, sometimes with some bad entries - take a listen to the good idea of planet honey -, and as it regards me, keyboard claps should be forbidden from the planet. A bit cold/frigid, but they seem like they can do much more - especially listening to glitter now -, they got a certain new-wave mood, a good (male) voice, a cool timbre, - they just need only some (?!) shining. Before this demotape, other 3 demos, planet honey (march 98), woodoo medicine (sept 98), scandal (feb 99), and one side project for they bass-gtrst, the Japan Beats. Soon some stuff should be released for K7 rec.. Check it out. Info: Francesco Radicci - v. R. Canudo, 127 - 70023 Gioia del Colle (Ba) italy - tel. 080 3430687 Cadabra's web site
Clark Nova - 1954 (7 trx '96) - Over one year to find Them out after having read some review about Them on several fanzines ago, i finally have Their own demotape into my post box. Don't mistake Them for Their punk/ska namesakes of Milwaukee [why? Do They exist?], - They come from Olgiate Olona, italy, europe. Wonderful name, - who loves Burroughs it will certainly recall the lysergic typewriter, real lead character in the novel Naked Lunch, and, who loves David Cronenberg, it should recall his (great) cinematographic translation of the 91.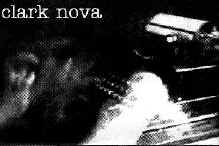 Great isntrumental ensemble, halfway through a pop music with some semi-tossic & psychedelic inlay and through some jesus & mary chain-like drop of kill surf city memory. Their gtr shines on the solos – see as it screams on the opening of mickey mouse was a Fbi agent[KomakIno premium '99 for the best song name], or on the half of took, while everything it's often prey of delay and panner effects. Beautiful èpreuve their instrumental Escape to Interzone, recorded on 4tx some time ago before this demo, - potentially ipnotical. The voice of Stefano is lovely ungraceful when it spins on quick rhythms and with multipersonality tones when it plans on butterfly oil or on baby road togheter with the guest french voice of Viviana Mazzani reciting l'adieu by Apollinaire. The band has had one year break, with two of them lost in Spain, and it had taken part to a Fridge rec cd compilation, entitled soniche avventure II, and on the horizon they should back with a mcd. I am curious about to listen to their next releases. Very nice the lyrics inside the booklet, produced a work of art in b-graded movies tones. The tape sounds super stereo, even if i think that its mixage isn't properly right. There aren't particular reasons not to ask for it, and hurry up, it can be too late. One hundred spiders come to make a party i've got just a memory like a butterfly nailed somewhere in the green times. Info: Alessandro Sardi v. f.lli bandiera, 18 – 21057 olgiate olona (va) italy or email to Stefano, siste@trad.it by Pao Mice
Joe Leaman - Double penetration (12 tx – Aua rec. '99) - After italian postal service has fucked two deliveries (but showing then to have a certain good taste..), finally i have had my joe leaman's Cd, coproduced with the Aua rec, Udine (Italy), when soon they're gonna release their next brand new cd. The first trk answer to this question: what if a day will The Fall draw inspiration from the Pixies?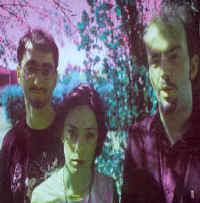 But keeping to listen to the song the voice begins to scream, and it seems to feel a Kobainian presence.. And, if You play the 2nd trk , named punt (a parable about rugby?), You hear a sudden shadow of the Screaming Trees, taken into a great ballad. It's an alternation of slow cadences broken by strange awakes. Anyway, there are many directions for this Sassuolo (italy) trio, eleven trx plus a ghost one, some chorus and new-wave mentions, a good voice (with the come on on the trk flower You'd be gonna wake shaking in yr bed..), and an ultra-bad cheeps background on the cd case.. Best èprouves - as regards me, - are if you put a coin in a glass of coke and weird catatonic samba, naturally beside the others quoted above... Also that one called truck is very pleasant, unique song where Laura, the bass guitarist, sings,- but it's a pity that her voice is effected in a quasi-clashing way.. Info: joe leaman – v. montebello, 51 – 41049 – sassuolo (mo) italy – info@joeleaman.com by Pao Mice
The Screw Loose fun fun fun (£ 4000) (5 tx 99) - Pop punk! And very cool. From the cover pics they seem to be very young (no one above 19 yrs old), but they are a great power trio (Lele, Fax, Teto), ultra speedy, crude and pogoso [sorry, i don't now the right english word.. you know, when you are at a concert, and you begin to jump free in the air, and so do all the people around you..]. Brief songs (no one touches 3''), simples, two or three riffs and pumping drms on that, but made à chief d'ouvre, right for jumping satisfied as smiling nuts/idiots in a concert, or to shake Your head until something dash out of yr ears. They state to be togheter from one year only, - but they play really good, and, christ, why aren't they yet some punkrock stars? Ah ah.. the song entitled so that justifies the purchase of this demo, and my legs don't stop moving. They, as many others, are born in the wrong nation. Do You love punk music? Try to love Them too. Only 5000 italian liras… by Pao Mice
Youthful - in da ass (6 tx '99 - 2,o7 euro) - Ultra epileptic Youthful! Imagine to hold a very corroded gtr, and to use it to harmoniously cudgel the drum (& so the drummer) while your head is a microphone able to amply every scream of your more-own inmost thoughts, in the meanwhile that someone is crashing a bass guitar on Your ribs. Pure poem. Improvisation? Davide of the Youthful sends me their first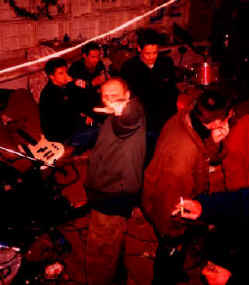 demotape recorded on the side A of an old recycled tape, wrapped up in a sugar envelope, a booklet to envy (for its roughness) and a letter written by his little dead drunk nephew (or is it been You to write it?). Several parallel projects, the Behere rec. Dint, The Flower & The Power, Good Morning Captain. The tape contains 6 songs, + an exploit of closing echo. Violated songs, often brief, not always instrumental, but where the voice [read SCREAMMMM!] permanently burns bronchi and lungs - some effected feedback, dying dolls, everything with a great mixage and it sounds good. A gggreaat atmosphere/caos. They are to produce and support = call Them. Info: davide maione - v.le cappuccini, 142/a - 26841 casalpusterlengo (Lo) - italy. Behererec@yahoo.com by pao mice