Live Roma, Ciampino, 29/05/2013 @ Orion
Biglietto 30 euro

|
pall youhideme You never know, it may happen you see
My Bloody Valentine
performing live on stage even three times in a lifetime. I couldn't ask for more. Wait, actually, I could: at least in my hometown, Rome, I would have loved to hear clearly their voices, finally. It did not happen. Well, to be precise, it is not Rome, but, more exactly, Ciampino, outside Rome, best known for the related low-cost a/r flights airport. Probably this has been one of the reasons why there were not much people (sorry for
My Bloody Valentine
, but I was glad to have more room for me). Maybe even because it costed 30 euro. Holy fuck! Anyway, I was pretty delighted to see people going from 15 to over 50 years old.
When I came to know they had scheduled a gig in Rome, I had already bought my ticket for one of their shows in London, last March. I was kind of upset, because the whole travel was not exactly in my budget, but, it totally was worthy, a good pretext to come back in London with some friends of mine. And
My Bloody Valentine
was simply awesome that night. Maybe I had some mixed feelings about that thing 'I CANNOT HEAR YOU SINGING', but the Music was good. Really good. Then I also took a ticket for this date.
Differently, this time, the local venue,
Orion
club, let me say it, it is absolutely not suitable for them, especially respect what I have seen
My Bloody Valentine
doing in
London Hammersmith Apollo
[> live rep] or (at their best, IMHO) at
Barrowland in Glasgow
[> live rep] years ago. In Glasgow it was simply sound-orgasmic. London was pretty okay.
Yesterday night, it has been a pain. Before they came on stage, the view of a reduced number of amps let me hope they could perform in a renewed 'indie' parenthesis, a smaller one, a more human thing, instead of their typical big wall of amplifiers.
Unlucky, there was no way to hear snare or kick drum (so sorry for Colm, he was playing great, killing performance), or even Bilinda's guitar (not even a clue about what the extra-member, Jen Macro, could have been playing), - hardly (and I mean nearly impossible) we could hear any of them singing in most of songs (maybe just on
Soon
,
Only Shallow
, and
Thorn
, - my two favorite moments, or it was just me under the illusion that I heard something).
The venue's audio system was really poor. I really hated that. And not only me. We were all pissed off, Kevin Shields included, I believe (they had a couple of false starts on
Cigarette in your bed
,
New You
, and others, because they could not hear well on stage, I think).
Anyway: they played
Come in alone
like at 78rpm.
With Honey Power
, you can only hear Kevin's guitar solo (this time it was pretty good!). The rest of the tracklist was pretty similar to the above mentioned London's gig: opening track
I only said
, and, not in order,
When You Sleep
,
You never should
,
Nothing Much to Lose
,
To here knows when
,
Only Shallow
,
Only tomorrow
- as far as I remember.
When one of the roadies was handing a guitar to Bilinda after they finished playing
You made me realise
(only a 7 minutes noise holocaust)
,
Kevin said everyone STOP: no encores, it was over. Definitely. I didn't even hear him say goodbye at the mic, fucking audio system. I would love to hear what the hall sound engineer has to say about it. And, no, no need to use ear plugs, this time.
Pronto, Ciampino? With love.
PS. Above picture by
Romina Amidei
, below, mine.
PS 2. Let me remember you there is a fancy
MBV tribute page here on komakino
, filled with their shows in early 90's. Enjoy.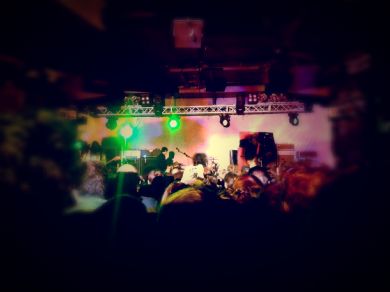 Feedback:

pall youhideme writes:
Hopefully we'll get a better ending than Paolini..
(09/12/2013 09:23:00 - ip: 89.97....)

federico writes:
we compare like Paolini, behind the video interview of rocklab in that venue
(08/12/2013 18:40:00 - ip: 212.23...)
Leave a feedback about this post, or don't. your sweet name:
your IMPORTANT text:
url:
icon:
will be resized 30x30pxl