Interview with Andrew Prinz of mahogany
- oneiric synchromists
k: Ok, first of all, can you introduce Mahogany to someone who has never heard anything about You? Andrew: We're an electronic-based music group, writing pop songs using drum machines, guitars, singing, synthesizers, cello, and other instruments too. k: Do You have a kind of recurring image to describe figurately Maho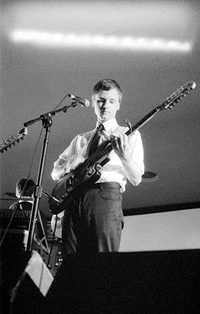 gany's music? For me, your music sounds extremly oneric, blissed-out, - it's like Shakespeare's Ophelia in the river with all flowers around (but she's singing ^_^), - my sister has got a John Mi

llais' print (about 1850), and i don't know why, - but i used to put these two impressions together, - perfect Music for reading or just dreaming. Andrew: When I work on the music I think of lots of different things, but they always somehow relate to one another. I've been more and more fascinated by cities, trains, and architecture over the past few years, but I always think of pre-war painting and design, by artists like Frantisek Kupka, Theo van Doesburg, Maholy-Nagy, Sonia Delaunay, Rodchenko + Stepanova, and others too, like the Futurists and Synchromists. k: Do You think Mahogany play happy music? According to you, what does characterize your music? Andrew: I think the music we do has associations of all kinds. I wouldn't want to focus on just one kind of emotion. Working on music, for me, is like a distillation or synthesis of everything I experience, so everything I go through affects what it might sound like. k: What have Mahogany been doing recently? Any new releases? Andrew: The last six months there's been some new releases. We just did a song, "Accelerations," and the cover design for the latest 'Little Darla' compilation (vol. 18). There's a compilation tribute CD to OMD [Orchestral Manoeuvres in the Dark - k's note] called "Pretending to See the Future" that we worked on, for Shelflife Records-- we covered "Bunker Soldiers", did the cover design, and did production for some other bands on that disc. Shelflife also released a children's book called 'One', and we contributed a song ("Sophie Taueber-Arp") for the CD included with the book. Auburn Lull just put out a new 7" on Zeal Records in Belgium, and I did production and artwork for that; the reissue of their album 'Alone I Admire' has just been released on Darla Records. We also produced projects and artwork for two new bands, an album for a UK group called Saloon, and a 7" for a duo from the US called Kanda. Lorraine also lent her voice to her friend Jon DeRosa's project Aarktica; that record is part of the Bliss Out series on Darla. The Kanda record, "Dormitory Heartbreaks" is out on 555, and the Saloon album will be coming out in April. This last year was fun and busy (those seem to go hand-in-hand). I like working on different projects-- some who don't necessarily sound similar to Mahogany, and some who do.
k: [!!!! greetings!] Tell me about "Sophie Taueber-Arp" song, it's an interesting story. What's been the approach with the children-sphere? Andrew: The "One" book is by Jill Bliss, who runs Shelflife Records with Ed Mazzucco. "One" is a children's story that talks about the evolution of a city. Jill also put together a CD of Shelflife bands-- it comes along with the book, so you can listen + read... I think Jill felt that we fit in with the idea of the book-- maybe because of the theme of construction and architecture. I really admire Jill's work. We had talked a few times about the nature of cities; she's got a lot of really great ideas regarding urban development and I came out of those conversations with a lot of respect for what she's doing. So I borrowed Ed's drum machine and wrote a song with it for the compilation. I was very happy to be asked to contribute. k: I read Allysa left the band to continue her studies in sculpture. But that was in 98, - now what is she doing? Another band? And how has the sound changed with her leaving? (You know, at moment i know Mahogany's music only referring to the two discs i have). Andrew: Allysa works at the Miami Art Museum; she's involved with the curatorial end of things there. I think the sound has changed gradually over time, as it should-- I don't think it has to do with any one person entering or leaving the band. k: Then Allysa is not more involved in any other music project? Doesn't She miss playing Music? Are You still in touch? Andrew: Yes; I don't think she's working on music; she's really involved with the museum. k: [what a pity..] Does Lorraine sing on past songs too? (i mean, where once it was Allysa at vocals) Andrew: Yes, and I sing on parts Lorraine once sang; when Jason Kolb (from Auburn Lull) plays with us, he'll sometimes play the parts I usually play on guitar. My sister Marissa is on a few of the Mahogany records as well. So we're always trying things out differently, to see if it'll work better. k: I read about the John Peel show in the UK, - what are Your memories about, is there a record of it somewhere? Did You play any other live show in Europe? Andrew: We did a 3-week tour of England & Scotland in the summer of 2000, right before the album came out, and that was great. We played almost all of those shows with our friends in Saloon, and it went well. Some of our records have been played on Peel, and people in the UK have been kind enough to tape those shows for us. It's definitely an honor. (!) k: Can you remember why you chose to learn an instrument and put together a group? Andrew: My mother's side of the family has a long tradition of music, math, and tinkering. My grandfather was a violinist and inventor, and my great-grandfather, a guitarist and mathematician-- so there's a feeling of ancestry, like I'm a part of this interesting little lineage. My parents were always very supportive of us learning music as children, also drawing, building things, so I think that wanting to put together a group comes out of that. When we were kids, there was always some project going on in the house! My mother often says that my brother, sister and I have a knack for music, but I think she really instilled it in us. k: Forgive the question - can you live on Mahogany's income, or do you have a job? Andrew: No, I don't think I'd ever want to live off the music. If money comes in from the music, we put back into instruments or equipment for the studio. I work in graphic design, which I enjoy a lot-- it feeds into the music. I like finding the equivalents between the two. k: What bands do you listen to? I read you have a background in classical music. Andrew: I've had a large interest in Factory Records since I was about 13 or so. I have a great love for bands like Section 25, Crispy Ambulance, and the Wake, as well as Joy Division/New Order. I'm fascinated by just about everything produced by Martin Hannett, too. I grew up playing piano, cello and bass, an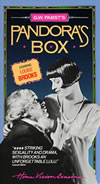 d was in the composition program for a while at my university before going into graphic design. I was very much set on playing classical music for years. I've always loved Debussy, Ravel, Shostakovich, Crumb -- mostly 20th century work, but not all in the same vein; I very much admire Gyorgy Ligeti, Pierre Schaeffer, and Steve Reich. And the bossa nova sound-- Antonio Carlos Jobim, Joao and Astrud Gilberto. k: Do you know any italian bands? Andrew: No, but Italian soundtrack records from the '60s are very popular here in the US. There's a few labels who have been putting out collections of them for some time now. k: What's your favorite movie? [in case you have one] Andrew: This is such a difficult question. My first impulse is to say "2001" [by Kubrick, k's note], but I saw "Pandora's Box" again the other night, and Louise Brooks is so beautiful. (!) "Two or Three Things I Know About Her" [by Jean Luc Godard - ndk] is a favorite of mine as well. k: Will you ever stop playing music? (hopefully you won't!) Andrew: No. :)
_________________________________________
Mp3's and get in touch: www.mp3.com/mahogany [update 'o6: mahogany.nu]
Interview featured on komakino#1o, march 'o2, by paolo miceli.