Concept behind box cover photo shoot
''Another concept for this photo included a cat to sit on Woodward's lap, but the cat peed on him.''
|
pall youhideme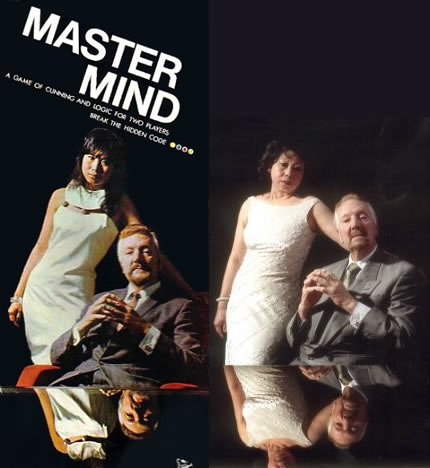 Mastermind
.
The photo chosen for this memorable 70's (though, I got one in the 80's) code-breaking game always fascinated me.
Who is this guy? A missing character from Bond's movies? That vibe. Does the girl hide for sure something more, behind her beauty. Who is The Mastermind, she or him?
Thank you internet, now I broked the code behind the photo shoot.. I love that..
"
Distinguished-looking Bill Woodward was then the owner of a chain of hairdressing salons and young Hong Kong born Cecilia Fung was studying for a computer science degree at the University of Leicester.
"
"
Another concept for this photo included a cat to sit on Woodward's lap, but the cat peed on him.
"
"[..]
the chosen dress was much too big for her. "They had to get a lady to lie on the floor behind me, out of shot but with her hand on my back, clutching the spare material so that the dress fitted properly"
" [
source
]
They met again 30 years after that shoot (2003). So sweet. "
Bill Woodward, now retired from business, is still recognised wherever he goes as Mr Mastermind. Cecilia [..] has since been working for Chase Manhattan Bank installing Management Information Systems globally for the bank's network. She has started her own MIS banking software company, CSI for over ten years now, CSI has been redeveloping their state of art MIS systems using the latest technology, the new software being called Qi8.
"
I don't own the game anymore, unfortunately. I remember it took me ages to understand how it worked. Then, it was pure brainiac fun.
Last but not least, fun fact: Cecilia – her married name is
Masters
No offence mr. Woodward, - but - She was the mastermind.
Feedback:

Daniel writes:
Thank you for answers about a photograph that has puzzled the heck out of me. For the longest time I thought the man was the actor Jack Cassidy. And what exactly, I wondered, WAS the power dynamic between these two? Both have a look that says, "The joke is on THEM, not me." Ah ... if only the cat hadn't peed and left the photo shoot, that would have made the whole scenario SO much clearer ....
(14/03/2023 20:50:00 - ip: 24.46....)
Leave a feedback about this post, or don't. your sweet name:
your IMPORTANT text:
url:
icon:
will be resized 30x30pxl