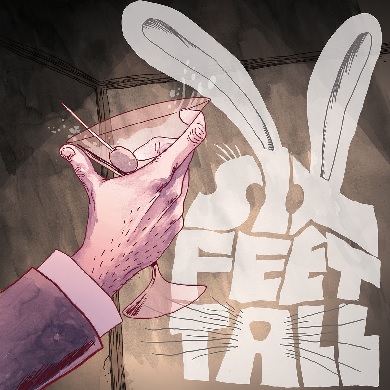 Non siamo dei maniaci della differenziata, ma quando andiamo a buttare l'immondizia e vediamo buste piene di bottiglie di plastica nei cassonetti dell'umido o la carta proviamo un fastidio profondo, e vorremmo quasi mettere le cose a posto con le nostre mani. Un po' come quando online cerchiamo qualcosa dei
Six Feet Under
di
Chris Barnes
, ma, prima tocca liberarsi dei filtri automatici che danno solo risultati relativi alla
serie TV omonima
.
In genere non è che siamo contro i programmi a episodi sul piccolo schermo. Quando a casa si guarda
Grey's Anatomy
o
Game of Thrones,
però, preferiamo andare giù a buttare il vetro già lavato e diviso. Vedendo
Pets
al cinema con i bambini, poi, ci si rende conto che sotto i bidoni possono animarsi bande di animaletti e conigli non sempre amichevoli.
Anche i
Six Feet Tall
hanno una certa sensibilità verso i roditori. I Sei piedi del nome che hanno scelto infatti si riferirebbe all'altezza del coniglio invisibile, misterioso amico e compagno di bevute del naïf
Elwood P. Dowd
, interpretato da un adorabile
James Stuart
nella pellicola datata 1950
Harvey
.
Da Perugia, in tre, ascoltando il loro primo EP, più che alla lunghezza degli animali da compagnia, però, viene da pensare al peso in quintali dell'ampli del loro basso e la cassa della batteria. Già hanno fatto le prove suonando in precedenza con Northwoods,
Vento d'ottobre
, (A)Toll,
Cayman the Animal
,
Ouzo
, ma qui sfidano le leggi della fisica proponendo un suono spaventoso e roboante. Alcuni pensando a New York rabbrividiscono pensando al
leggendario coccodrillo bianco nelle fogne di Brooklyn
. Noi personalmente ci cachiamo sotto pensando agli
Unsane
e ai loro martelli. I
Six Feet Tall
si confrontano indiscutibilmente con quell'attitudine, sporcandola in un versante punk e più diretto.
A fun that never sets
, per esempio, ha un incedere decisamente spedito, e con l'urgenza pre/hc dei
Wipers
. Il resto però ha una compattezza che rimanda al terzetto di
Signorelli
, ma con soluzioni veloci anche alla
Will Haven
, e un cantato che per timbro e postura ricorda vagamente quello di
Mudhoney
e
New Bomb Turks
. Non cambiamo idea sui programmi TV, ma se i
Six Feet Tall
produranno i loro EP con una serialità lunga e costante, noi li aspetteremo sempre, anche se finiscono sulla colonna sonora di
Vampire Diaries
.
.·´¯¯`·. .·´¯¯`·.
° ° /_ .K ..·
·.. º .·
I'm not big fan of differentiated waste collection, but, everytime I take the trash out and I see wraps of plastic bottles inside the bins of wet waste or paper, - oh, that's utterly annoying, such that I am often tempted to set things right with my bare hands. Something similar to when I search on-line for
Chris Barnes
'
Six Feet Under
, instantly, I get tons of results of the popular
same named TV show
.
Generally, I have nothing against TV shows. Though, when
Grey's Anatomy,
as well as
Game of Thrones
are on TV here
,
I prefer going out and bring with me glass bottles, previously cleaned and dried. Although, since I watched
The Secret Life of Pets
with my kids, I realized that behind the recycling bins I might cross into an army of lost pets and bunnies, not exactly that friendly.
Also
Six Feet Tall
have a certain thing with rodents. Their name is after the three-and-a-half-inch tall invisible rabbit, drinking buddy of naif
Elwood P. Dowd
, aka the adorable
James Stuart
in 1950 film
Harvey
.
From Perugia, Italy, three-piece band, listening to these tracks, s/t debut EP, more than thinking to the height of their pets, my thoughts go to the huge weight of their bass head+amp, and not less to their floor drum. They played live shows with Northwoods,
Vento d'ottobre
, (A)Toll,
Cayman the Animal
,
Ouzo
, and here they are able to defy the laws of physics by proposing a scary sound, often bombastic.
Some, thinking of NY,
shudder thinking of the legendary white crocodile in the sewers of Brooklyn
. Personally, we're more afraid of
Unsane
, and their hammering vibe.
Six Feet Tall
play well with that similar attitude, more with a punk vibe, sometimes such so direct. Like,
A fun that never sets
, is definitely fast, with a pre/hc urgency à la
Wipers
. The rest, however, has a compactness that refers to
Signorelli
's trio, with some lines also à la
Will Haven
, and vocals that, tone and posture, remind me of
Mudhoney
and
New Bomb Turks
.
So, I don't change my mind about TV shows, but, if
Six Feet Tall
will ever produce their EPs with a long and steady and constant planning, we would always be waiting for them, even if they end up on the soundtrack of
Vampire Diaries
.
Feedback:

pall youhideme

writes:
A kick-ass disc! Free download. Davvero una bella botta! Gran bel disco
sixfeettall1.bandcamp.com/album/s-t-ep
(23/11/2016 17:11:00 - ip: 5.152....)
Leave a feedback about this post, or don't. your sweet name:
your IMPORTANT text:
url:
icon:
will be resized 30x30pxl