A short talking with Thomas Werbrouck
An album full of Bobs
|
pall youhideme So, I could not but talk with
Thomas Werbrouck
about his new solo project,
Krankland
, since I'm a big fan of his
Little Trouble Kids
thing with his now-wife Eline Adam - totally underrated, if you want my two cents.Yeah, born solo,
Krankland
, then grown as full band, ready to tour Europe next October, along with the release of their debut LP disc
Wanderrooms
, for his own indie label
L
ittle Trouble Disks
. A multi-facets tracklist, unconventional, prepared instruments. Common vibe: a permanent state of inner bitterness, lowered only by the levity breeze feel of Summer Avalanche. So, press play, order your 7'' copy below via BC, and enjoy this interview.
komakino: Thomas, so, how far is
Krankland
from
Little Trouble Kids
?
Krankland
is not population 1, right? Still, is it, or not, a solo project?
Thomas
: I have been writing songs ever since I could speak, but not everything I make fits the haunted-neurotic- kids-vibe of
Little Trouble Kids
. So,
Krankland
is me showing a whole other artistic side of myself that I couldn't pour into
LTK
.
The songs were all shaken from my sleeve, but I wanted to see how other musicians would dress them up. I asked a bunch of extremely talented musicians to join me in the studio: drummer Christophe Claeys – formerly of
Balthazar
, now with
Amatorski
, SX,
Magnus
– Thomas Mortier on bass and sound wizard
Janko Beckers
as my
ersatz
Warren Ellis. Together we have tackled my bedroom demo's over a course of ten days, and the result is very magical. We went into the studio with an open visor: I'm always a big fan of
serendipity
, so we let the songs direct the way. I love the story of how
David Lynch
came up with the character of
Bob
in '
Twin Peaks
':
one day during the shoot
he saw the face of somebody from the technical staff reflected in the mirror. That sight, that face, was so creepy, he decided to
write a part for this guy – an ordinary set director. Et voilà: Bob was born - perhaps the single most intriguing character of the show, and he wasn't even in the original script! I wanted an album full of Bobs – mistakes, coincidental findings, electricity in the air - and it worked: we couldn't envision the album would
sound like this beforehand, but we let our gut-feeling and our ears guide us!
komakino: This record of yours is very heterogeneous, multiform, I'd say: it starts with the full melancholy of
Holding On
, then, the care-free U-turn of
Summer Avalanche
, till the psychedelic vibe of
In the Realms of the Unreal
, so, the whispered, dark romance of
Dog Days
.. well, where are you going with it? And there is always a kind of bittersweet keyword after, am I wrong? It has more of a sad album, than of a positive one.
Thomas
: It's definitely a sad album: I've been through somewhat of a quarter-life crisis, loosing my job, doubting myself… These songs were written in this period of crisis. But I'm always a bit wary of songwriters who bore me with their depression, so I wanted to break the sad lyrical content with an extremely adventurous sound palette. Hence, the very multilayered, diverse directions the album takes. '
Wanderrooms
' is the title of the album, derived from the German '
wunderkammer
' or cabinet of curiosities. This album is my collection of curiosities, songs written in my solitary room. But it's also the perfect excuse for me to break out of this room, this capsule, and wander around this world into new directions, exploring new stuff, giving my life a new, adventurous and positive twist! And I hope the listeners will get the same feeling of hope, life, vibrancy, joie de vivre that is a definitive undercurrent below the melancholy.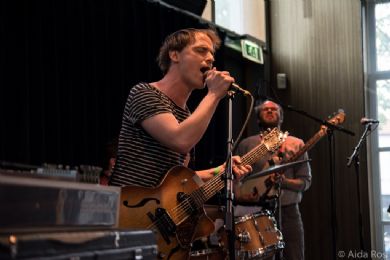 komakino: These songs were like.. old ideas, stucked in your head for years, and then finally out, or has it everything popped out suddenly? Do you want to talk about the album's production?
Thomas
: One song is about ten years old – it survived all this time, so it had to be good, right? The others are no older than a year. I always carry a cheap dictaphone with me and whenever I get the chance I sit down with my guitar and record some ideas – sometimes whole songs, sometimes no more than a guitar riff. When Krankland was born, I evaluated every idea on the dictaphone, and sat down and wanted to really work out the best of the best. I've read somewhere that writing songs is actually hard labour – all the great songwriters say it:
Bob Dylan
,
Nick Cave
,
Leonard Cohen
. But I actually never got down to serious business! So now I started working hard, writing and rewriting lyrics, inventing interesting song structures, catchy hooks… Until I could make a very humble addition to the great songbook of the universe. I don't know if I succeeded, but I have learned a lot in the process.
komakino:
Wanderrooms
will be released - I read - next Fall: do you have a deal with a record label?
Thomas
: The album will be self-released on our home label
Little Trouble Disks
!
komakino: Was
Holding On
the first choice as the album opener? Did you leave any Krankland song out from this album?
Thomas
: I must have tried every song to hear if it fits as album opener, but '
Holding On
' is the one that really crawls under your skin from the get-go. I really like
the fact that this song starts off very slowly with just me by myself, and how the Krankland-universe gradually unleashes itself upon the listener when the band kicks in. An excellent metaphor for the birth of this band: from solitude into adventure! I didn't leave any songs out, in fact I wrote two extra songs a week before we went into the studio: '
Summer Avalanche
' and '
Hurry Man
' imposed on me so violenty, they just had to be on the album!
komakino: What's your favourite song on the album?
Thomas
: Ha, choosing between my babies! I'm in the process now of trying these songs out in small venues, and I have to say: '
Oh My Love
' truly strikes a subconscious string with me, everytime again. Although I wrote it, I'm still not sure what the song means: is it a love song? Is it a break-up song? Is it a farewell song?
komakino: The visuals for
In the Realms of the Unreal
video well match with the psychedelic vibe of the song, still, that track is maybe the only ticket in the tracklist which perfectly goes for a psychedelic festival, in terms of that kind of spirityal oddity.. do you think Krankland can fit with any particular music scene?
Thomas
: I hope so! I never intended to fit a particular scene or sound, and I hope to stand out everywhere possible: I think Krankland really sounds like Krankland, and nothing else. I'm aware Krankland is very diverse, and because of that, it's not going to be an easy road for us… It's so much easier to sell your music if you can put a clear label genre on it. But yeah, this music is an imprint of all the music and influences I have sucked in during my small time on earth: this is me in ten wav.-files! I sure hope that we have come far enough in human evolution to listen to music with an open mind, and to let us be surprised by an interesting mish-mash of sounds by musicians who have made an honest effort to make good music.
komakino: What is that sick, haunted sound opening Dog Days? A bow on a saw? You have a kind of addiction to unconventional instruments, don't you?
Thomas
: That's my voice actually, through a broken trumpet and looped in a number of layers over one another. Oh yeah, I love unconventional instruments! I have been building my own instruments now – if it doesn't exist, and I need it? I make it! And I also love to make conventional instruments sound unconventional – that was the role of Janko Beckers during the recording process. He's a true sound magician: he plays lap steel on most of the songs, but it surely never sounds like country music!
komakino: In my interview with you for LTK, about your backline, you told me '
Less is more
'. Is it still like that with
Krankland
now?
Thomas
: We're going to be a four piece on stage, so I really regret that we don't fit in our trusty LTK-touring machine anymore (a small Citroën Berlingo). The
band is bigger, but it's still no prog rock. My guideline towards the other musicians: if a note shouldn't be there, don't play it.
komakino: Please, tell me the idea behind the lyrics of
Rat Race of the Slugs
, it sounds pretty tricky.
Thomas
: Hmm, I really like the surreal nature of those lyrics, and I feel that explaining what it means to me personally, or why and when I wrote it, would destroy that. I'm going to keep this one for myself, if you don't mind. But I invite everybody to make their own analysis!
komakino: So, what about now, are you going on tour to promote this record?
Thomas
: Yes, we hope to play all over Europe. But we are starting in Belgium with a release show (1 October) in my favorite venue:
4AD in Diksmuide
! Tour dates will be published on our website
krankland.be
!
komakino: What about
Little Trouble Kids
? You are on a break, or should I expect the worst?
Thomas
:
Little Trouble Kids
is in a small wintersleep now. But Eline and I just got married recently! No LTK-plans for the moment: Eline is now focusing on
painting, and being creative outside of music. She is responsible for all the Krankland-artwork, for instance. And our bond with each other is now stronger than ever!
__________
Interview June 2016
Info: Aida Ros photo, taken from
3voor12.vpro.nl
| Like
Kranland on FB
Feedback:
not yet, probably nobody cares, or nobody cared enough to tell something. Also: nobody reads komakino.
Leave a feedback about this post, or don't. your sweet name:
your IMPORTANT text:
url:
icon:
will be resized 30x30pxl