 Andrea Giommi, with all his music projects, has been often under our radar; lately, seen the debut of his brilliant The Emerald Leaves, I could not but making a chat with him to know more what's going on now.
***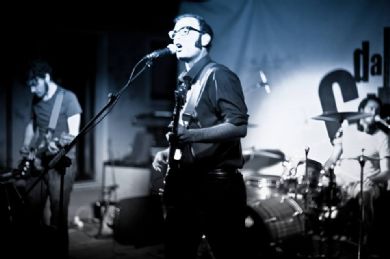 komakino:
The
Emerald Leaves
, such a romantic name for a band, I think. What were the alternative?
Andrea Giommi
: The Emerald Forest was an alternative we considered, since the name is actually derived from
John Boorman
's movie. There are too many bands with the word '
Forest
' in their name, such as
Forest Swords
,
A Minor Forest
,
Be Forest
… About time to be more specific and go for the leaves!
And yes, better romantic than post-modern!
komakino: This record by
The
Emerald Leaves
comes after
Leg Leg
's one and several releases with
Edible Woman
, - where, at first sight, the common denominator is you (Andrea Giommi) and
Mattia Coletti
(musician and sound engineer): what this new music sound like? Is it really new, or it was hidden in a drawer 'till now? Or just hidden inside some of
Edible Woman
's tunes?
Andrea Giommi
: The story is way more complicated but I'll try not to be redundant; the common denominators in
Edible Woman
are Nicola Romani and me, he is the drummer and
the booking agent
for the band, we have been in
Edible Woman
from day 0 and are the only original members of the band. We met
Mattia Coletti
when he was playing with
Sedia
(what a band) and he became our sound engineer; we have toured with him several times during the years and have become great friends, that's when Mattia and I thought of starting
Leg Leg
, a project that has had a quite short life, but we had an astounding live set. So much fun!
The
Emerald Leaves
is an act of love towards
Giacomo Governatori
, the first guitarist in
Edible Woman
, who now plays the guitar in
The
Emerald Leaves
. I originally thought of this as a solo project towards tribal and minimalistic music; however, I have gotten in touch with Giacomo again two or three years ago, so it was tempting to shape new sounds together. This is the unexpectedly mellow result. Being surprised by music is a great achievement!
komakino: so,
Edible Woman
are still alive and kicking, arent' they?
Andrea Giommi
: They are! We are! I can enlist the issues with
Edible Woman
:
Lorenzo Stecconi
(
Lento
– bass player for
EW
) is recording a few works for
Alos
and
Ufomammut
if I am not wrong, and he is the sound engineer for
ZU
tour now, so he is busy like hell. Nicola is working like crazy at
DNA concerti
and I live in the UK now, I am touring with the Emeralds and so on. Despite this, we are working on an album, I hope it will be ready soon. We played our last show at the
Bloody Sound Fucktory
ten years anniversary festival back in June, we can't wait to be back playing live. I miss touring with the guys!
komakino: How long did it take to finish these recordings? What was the songwriting process behind?
Andrea Giommi
: Alessandro Gobbi (our drummer) recorded the album. It took us at least one year to write the songs and I would say one year from the first day in studio to having the final record in our hands. We are slow, in these times where albums are constantly released, this is some sort of political attitude isn't it?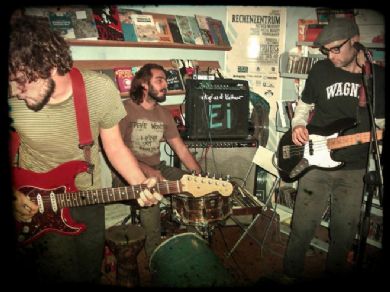 komakino: So you're in London. Where do the others live?
Andrea Giommi
: Giacomo just moved to Trento and Alessandro lives in Fano. We write separately now, we meet for rehearsing before shows, we load the van and we go for it.
komakino: A debut release on cassette tape and digital.. a stylistic choice, or a mere lack of economic confidence for CD and Vinyl?
Andrea Giommi
: Lack of cash! The label –
Jus de Balles
records, small DIY label form Brussels – only prints cassettes, and they gave us the possibility to release the album, which was great stuff for us. Our next release will be cd or vinyl and we may decide to reprint this one in CD as well.
komakino: That's good. - The press kit says
Philippe Petit
was involved with your recordings.. how? And how did you meet him? We're big fans of him, downhere.
Andrea Giommi
: He is an
Edible Woman
fan, I am a
Strings of Consciousness
fan. My idea at the beginning was to try and prepare a live set of
The
Emerald Leaves
+
Philippe Petit
, after he recorded some sonic intervention on our songs (there a few on '
The Lord
' '
Send peace
' '
They go
' especially) but we did not agree on the final result. He felt he was not completely represented in our work. These things happen, but they are painful.
komakino: Your first live gig as
The
Emerald Leaves
was in last August, right? Did you have fun? Are you planning to schedule more?
Andrea Giommi
: We have been playing concerts sporadically for more than one year now, but we have intensified the live activity in the last months, since June to be more precise. We will be playing shows here and there in the next year or so, before releasing new material. When playing live the
Steve Reich
– psychedelic component of our sound is much more evident. It's true bliss for us!
komakino: You use synth and keys on most of your track; so, how do you manage to play all these instruments live, being a three piece band?
Andrea Giommi
: We have a Korg Synth live, but mostly we are a bass-guitar-drums trio. The guitar works with looping and stratifications, so that is the instrument that mostly generates harmony.
komakino: So, tell me about
The Lord
, your song, I mean, not the Mighty Lord. Actually, you can talk about both: '
Send peace
', '
The New Order I pray to come
'.. they sound pretty religious..
King Lone Star
is about Texas? Just kidding, tell me more about your lyrics.
Andrea Giommi
: I feel the necessity of god, I don't believe in it. This album reflects a lot about my personal dissatisfaction with what the world has become right now, also '
Nation
' of
Edible Woman
was a reflection on how suffocating the world has become, and the first symptom of the fact that the situation is pretty homogeneous and pretty fucked up is that we have the feeling we know the whole world now! We cannot envisage any space or future time where to 'escape', we see the ruins of capitalism everywhere and or poor people fighting to fulfill a consumerist dream. Living in London now, thus being at the center of this spiritual devastation, I feel this even deeper. And I suddenly feel the urgency to pray. What else than pity and love are left?
komakino: Do you like reading? Is there's anything interesting you would suggest to pick?
Andrea Giommi
: I read constantly. The last book I read is
Dead souls
by
Nikolai Gogol
, I am going to tackle a book by a Greek scholar now,
Kostas Vlassopoulos
a brilliant colleague of my lady,
Unthinking the Greek Polis
. Ancient Greek History Beyond Eurocentrism.
My favorite book among those I remember is
Ada or Ardor
by
Nabokov
. It makes me cry a river. It has to be read in English though.
Feedback:
not yet, probably nobody cares, or nobody cared enough to tell something. Also: nobody reads komakino.
Leave a feedback about this post, or don't. your sweet name:
your IMPORTANT text:
url:
icon:
will be resized 30x30pxl