Thomas and Eline
gave the spellbound audience a good soaking
|
pall youhideme Again, think
Gowns
and
Peter Kernel
, add some post-punk voodoo, and maybe you'll get the chemicals behind
Little Trouble Kids
' music: definitely something that enthralling, a mix of genuine, noir punk primitivism, revised with a minimal diy touch, boy/girl vocals, differently percussive and sometimes even utterly poignant (
For as long
). I could not but have an inteview with Thomas Werbrouck and Eline Adam, the two core members of
Little Trouble Kids
, who are now, with drummer Jonas Calu, a trio. Their second full length record,
Haunted Hearts
is simply fucking awesome. Brilliant and desperate. Now, press play and read my interview.
komakino: Hi Thomas, Eline, my bad, you're making such good records since many several years, but only recently, I found out of you, with this new LP of yours, - the third of yours -
Haunted Hearts
. Can you say your music writing has changed and how, through these years? A track like
Freemason
is more noise pop than the average nihilist feeling of
Haunted Hearts
, don't you think?
Little Trouble Kids
/ Thomas: Indeed, we have been making music together for ten years and more now... We started out in a high school band in which Eline played bass and Thomas banged the drums. When that band called it quits, we decided to continue as a two-piece:
Boston Tea Party was born
!
Tim Vanhamel
(from
Millionaire
,
Evil Superstars
,
Eagles of Death Metal
, and many more) discovered us after a show in Antwerp, and produced our first album, called
'little trouble kids
'. Actually, we are also struck by the very uplifting and punky spirit, when we listen our debut back today. We sing about childhood memories, partying, and how we are 'cool kids' who are 'gonna make it to town'... That album was a somewhat naïve, but very honest enthousiastic blueprint of who we were in those days: essentially two hardworking students trying to escape a boring live by writing music and playing concerts. Likewise, our new album '
Haunted Hearts
' is also a reflection of who we were, a year from now. 2013 was a tough year with a car crash, being fired at work, facing a burn-out... Adulthood kicked in, hence the dark atmosphere and less optimistic thematics of the last album. A side note about the 'boston tea party is dead'-video => In 2012 we changed our name to
Little Trouble Kids
because
a Dutch band
had patented that name. (silly us, we didn't google the name beforehand). We were pissed off at first when that Dutch band contacted us, but now we are very glad we changed our name: LTK is a far better band name, and we can't be confused with
the conservative American political organisation
anymore! We also didn't want to mope around and decided to make a funny video about our name change: Eline spent hours working on the scenario, looking for the right scenery, outfits,
John Lennon
s glasses...
komakino: Watching
Haunted Hearts'
video, I assume you are now a three piece, right?
Thomas
: That is correct. On our first two albums we had a limited instrumentation: just an acoustic guitar and a wooden box on which Eline tap danced to the beat. But the new songs for
Haunted Hearts
were written with a loop station and had more intricate beats so we decided to drop the stompbox and engage a living, breathing man to play percussion. However, we still don't use a full drum set: we have only have three floor toms and a guitar on stage! Less is more.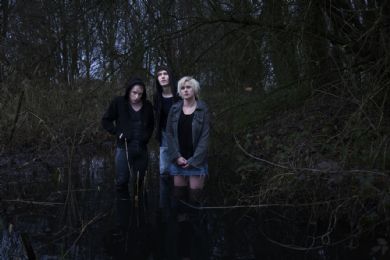 komakino: I assume you are a couple, what came first, love or music together?
Thomas
: Ha, music actually... But love followed pretty soon. We got to know each other when we were 17 years old. Eline's first band was looking for a drummer, and came to Thomas. Classic high school love!
komakino: Your sound is pretty noir, I mean, this is not a record for the daylight. And you can sense a lot of DIY attitude in it. My opinion. But, this weird chemical of melancholy, and bittersweet romanticism along the tracklist, is vehicle of powerful originality: the minimal drum kit and distortion satured acoustic guitar, it is like you naturally satisfied your primitive urge of making Music with the first things around you making a sound. So, what's Music in your life?
Thomas
: Difficult question. I would say: without music, there's no life... If we aren't making music or performing, we are always listening to music, buying music, singing or talking about music. I think it's safe to say, we are music freaks...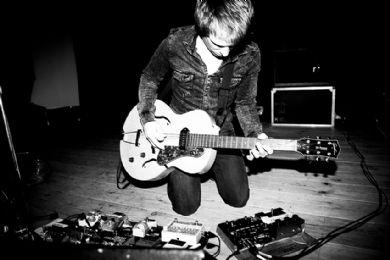 komakino: I love
Medals & Scars
video, how did the idea pop up? It is pretty creative and visionary.
Thomas
: We are fond of hand crafted animation, early cinema pioneers like
George Méliès
, the early stop motion material of
Tim Burton
. And it has been a dream for a very long time to make our own stop motion video. We are no professional animators so we have tried to make a stop motion video with material that we understand: paper and scissors. Eline has made the scenario, has spent hours and even days sketching figurines and sets and carving them out of paper. Eventually we made 7510 pictures to make the characters come to live! From start to finish, it took us more than 50 hours to create that video.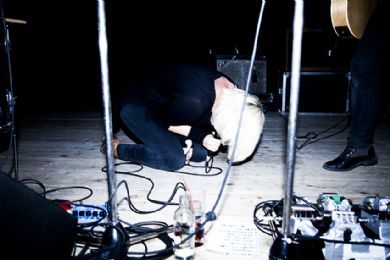 komakino: You've been touring Europe in last years, and, now, what? I see you have a bunch of new gigs in Belgium, NL and France. Who drives the van? Any plan to come down in Italy?
Thomas
: We are now promoting our new album in Belgium and the Netherlands. On the road it's just the two of us, our percussionist and our sound engineer... Since we are a very small outfit we can still travel in our small Berlingo, and Eline and me take turns on the wheels (we are both very designated drivers!). Space is tight, but it's very convenient and quite cheap to tour in this manner! More bands should do it, haha. In 2012, we were lucky to be invited on a European tour alongside Belgian heroes
dEUS
. Touring is the most exciting part of being in a band, and we have plans to go on tour with a befriended band in 2015 to France, perhaps Spain, Portugal, and we really, really want to come to Italy... Travelling to beautiful countries, and a warm climate. That's life!
komakino: Personally, do you still buy records? Maybe vinyls? If so, what did you grab recently?
Thomas
: We have a very limited vinyl collection... We're actually very convinced CD-people! CD is a great format, you know. It might not have the charm of an LP, but it produces the music exactly like the artist intended their music to sound. Plus: we can bring along cd's in our Berlingo when we're crossing the country once again. Our last purchases: '
Salad Days
' by
Mac DeMarco
, a compilation with New Orleans 'Voodoo' music, and the soundtracks by
Eleni Karaindrou
. Not very hip, but beautiful music.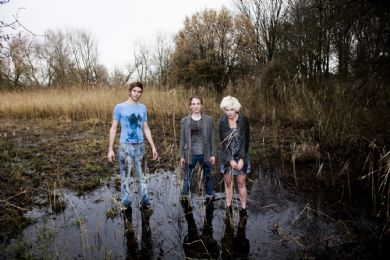 komakino: Do you have 'regular' job? Or are you students?
Thomas
: Eline has a daytime job in a excellent Belgian music club called
4AD
. She works for
the commemoration of the Great War
, and organises really cool events like gigs by
John Cale
and
Einstürzende Neubauten
who will present new musical pieces about
the First World War
. Thomas is a freelance journalist.
komakino: Is there any live show you particularly enjoyed recently? Do you like to re-listen to your own record?
Thomas
: Every show we're playing nowadays keeps on getting better and better. I have the feeling that we still have some of our best shows ahead of us. Perhaps our upcoming show on the amazing Belgian festival
Pukkelpop
will be a highlight... Last summer we had the best festival experience ever. We played a festival called
Au Pont du Rock
in France, and the tent was packed with 2000 people who didn't know our music. But they sang along every word of every song anyway. Best crowd ever! We seldom re-listen to our own records. Once it's finished, it's finished...
Photos by
Marjolein Hoornaert
|| interview July 2014 .
Feedback:
not yet, probably nobody cares, or nobody cared enough to tell something. Also: nobody reads komakino.
Leave a feedback about this post, or don't. your sweet name:
your IMPORTANT text:
url:
icon:
will be resized 30x30pxl