 So, I bought this ticket to finally see
Slowdive
live - single and ever first date downhere in Italy - right after they woud have announced it on twitter. It was fast, my paypal account was ready, so was I, I did not think twice.
Last time I did something like this, in 2008,
for the first My Bloody Valentine reunion
, because of a rush of anxiety, I bought like 8 tickets instead of 4 (me and friends). This time I've paid more attention. And to my suprise, it did not go sold-out as I thought.
What a low cultured country
, Italy.
Me and two friends of mine left Rome for Padova, northern Italy, by train, last wednesday;
Slowdive
was scheduled as (of course) headliners for this interesting festival, named
Radar
, which sees also
Calexico
,
Lali Puna
, The
Neutral Milk Hotel
and more gold on the plate, within another festival,
Radio Sherwood Festival
: - this should say something about the concept of niche band, inside another niche scenery in Italy, notwistanding
Slowdive
have been and still are of huge influence for hundreds of bands and listeners even here.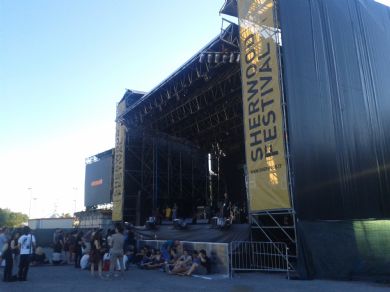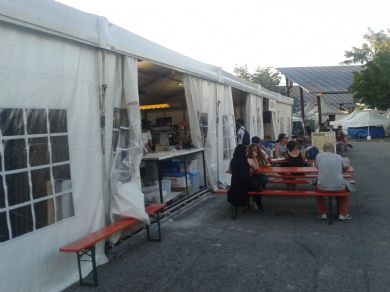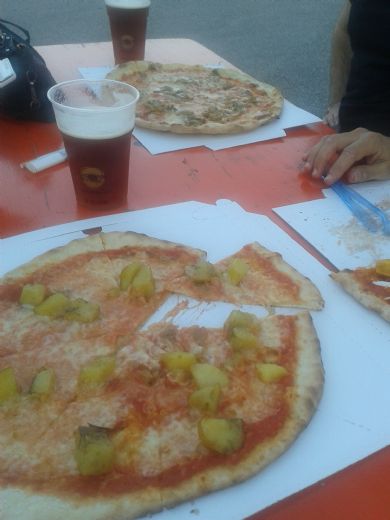 The whole festival looked to be greatly organized, place next to Stadio Euganeo Park Nord. Especially if you're from Rome, then you're calibrated on a mediocre level of quality for these kind of 'big' events: luckly we were in Northern Italy: full of free parking, full of stalls to have a bite, something to drink (a
spritz
!) without going broke, buy something, have a walk around if you get bored. Kids collecting a number of void glasses from the ground to get a free beer (0,25 €/cent each). Let's call it, alcoholism.
And right as I'm having a tasteless
pizza margherita
with (raw) potatoes (actually, cooked by people attending a course for pizza, for an affordable price, so, peace), 8 o'clock,
Brothers in Law
start their set on the second stage; I was starving, so I enjoyed (at least, I tried to) my pizza till the last piece, sitted on a bench, and watched their show from far. I already saw
these guys
in Rome some months ago. They have a good sound, songs wisely crafted and produced, something à la
The Drums
and
Captured Tracks
records, plus, they're still so young, - all at their favor, - but, personally, there's still something missing, that kind of shining, or emotive impact I need to fall in love with a band. They make good music (though, I'd love they leave their macbooks home), even original stuff, for being italians, but I did not leave behind my pizza to see them. Still, I am ready to sign a deal to have more bands like them in Italy.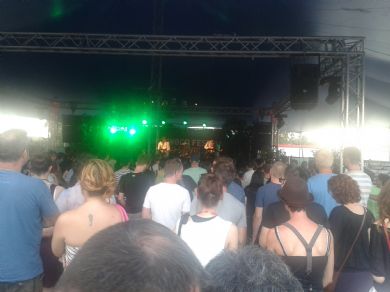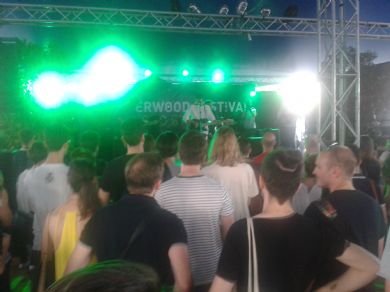 Later it's
Be Forest
to jump on (the main) stage. This time, as a trio, the guy playing keyboards was replaced by an Apple machine. Damn' robots. Guitarist
Nicola Lampredi
probably used a secret tunnel connecting the two stages, because right after
Brothers in Law
finished their set, he was already on the other side of the festival, to join
Be Forest
(again, he plays in both bands).
I love
Be Forest
, - that's no news if you read komakino from a while, though, I'm more fonded with their first record than with
Heartbeat
. And actually, those songs they picked from
Cold
were the moments I enjoyed the most of their show. And can I say I prefer
Erica Terenzi
's voice to
Costanza Delle Rose
's? It's that kind of grave and troubled vocals I love more:
Florence,
what a fucking brilliant hit. Their short set was fully enjoyable and emotional (the final track,
Hideway
), even danceable (
Captured Heart
,
Lost Boy
,
Colours
), and, again, I wonder how it is possible that when Erica and Nicola switch instruments, they still have the same guitar style. PS. May I say that, even if you look marvelous dressing red, you should keep a low profile if you're a
cameraman
cameragirl in front of the stage? Thank you.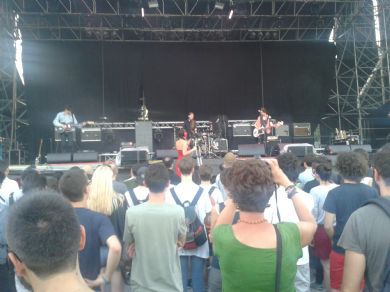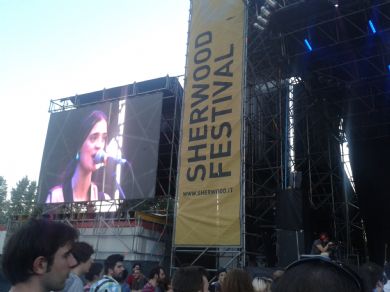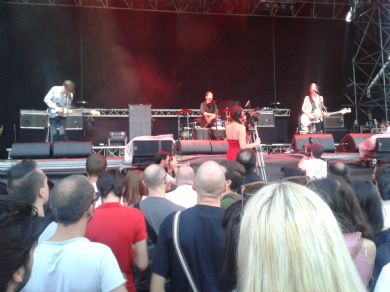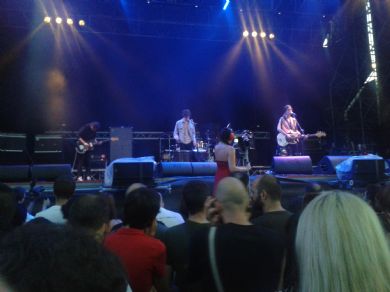 Since I made like 500 kms to see
Slowdive
, and
Soviet Soviet
were meant to play their show at the other stage, I just grabbed one more beer and encamped under the
main
one, waiting for the
main
act. No hard feelings,
Soviet Soviet
.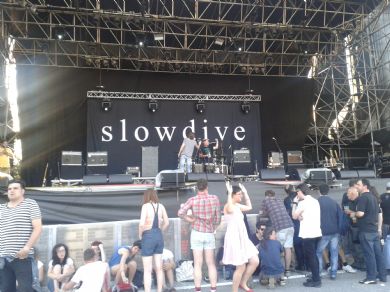 (Underrated music legend)
Simon Scott
popped up to adjust
his drum set
, after a short while they were all on stage. Two
Jazz Chorus Roland
amps for
Neil Halstead
plus a Telecaster and one Gibson ES 335 (?), one JC Roland too for
Rachel Gowsell
(plus tambourine and her
white Custom 77 guitar
), one
Vox AC30
(I heard, lent by
Jukka Reverberi
from
Giardini di Mirò
) plus
Fender Twin Reverb
for
Christian Savill
(playing a beautiful Fender Jaguar and a Strato). An Ampeg for
Nick Chaplin
? Anyway, in a few seconds, after the
Deep Blue Day
intro music (by
Brian Eno
), the homonymous track
Slowdive
started. Simply celestial. Chatartic and amazingly huge. This song is a
simple
A+B track, and in its
simplicity
, it's filled with pure magic. Of delay, reverb, fuzz distortion magic, voices. Rachel was
smiling
(what
a beautiful creature
!), - I love when musicians smile for happiness, for being on stage. Then it goes
Avalyn
. Oh god. I was nearly going to
cry like a blue haired girl
. But I'm a grown big man, so I spoke a little about footbal, I scratched, then burped. Then they played
Catch the breeze,
and I could not think of anything more musically poignant in that moment. Still there, maybe Rachel's mic was a little low, especially in comparison with Neil's, - something which sound engineers later fixed.
It follows
Crazy For You
, this new revamped live version, can't exactly explain why, but I love it more in its original solipsistic way, though, I love how Simon beats the drums on it now. But if they're playing it like this, now, I think, maybe, it was meant to be recorded like that, originally. Maybe. With
Machine Gun
, I'm in ecstasy. Rachel's voice is thin, sometimes even inaudible, still, you're sure you can hear exactly what she's singing. And then there's that
Son of yellow, son of Shiva
. Magic.
Blue Skied an' Clear
, like for
Crazy for You
, - it was disarmingly beautiful to hear it live, - but I am like a sort of
Slowdive
fundamentalist, and I have always thought the whole
Pygmalion
record should be listened alone, through headphones, in a lonely state. When they proceed with
Souvlaki Space Station
, people go bananas. Yet, my favorite moments arrived with
Morningrise
, and
She Calls
, where Simon Scott and Christian Saville added some real magic. Neil Halstead is for sure an inspired genius with a mesmerising songwriting, but let's not forget Savill(e)'s
Eternal
: he is part of that cake. At the end of the show me and friend of mine catched a guy from the staff who was taking a picture of Christian's pedalboard: we told him '
share or die
'. He's still alive, so here's the picture, hopefully this won't bother Christian (although, I suspect it's Neil's pedalboard, since there is a mix stand above.. can't really say): like a pot of gold at the end of the rainbow, and you can finally give a glance.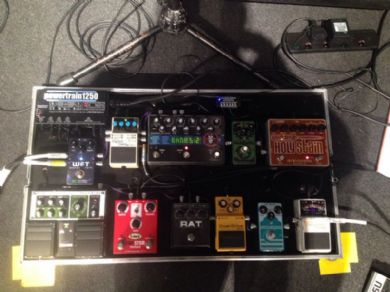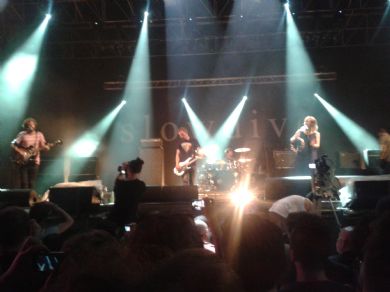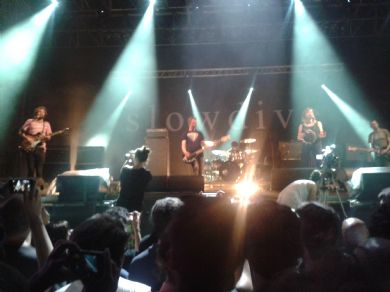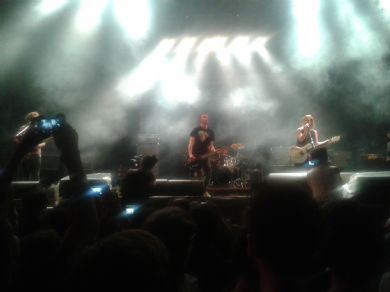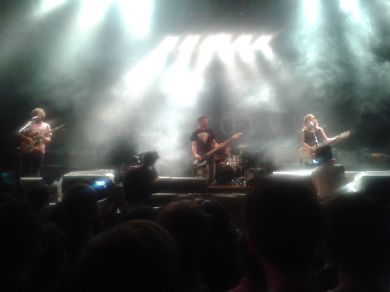 When the Sun hits
, oh dear, for so many years I dreamt to be listening to them playing this song live.. so you can hear me howling before it starts.
They closed the show with
Golden Hair
, announced by Rachel as last song. NO. You'll be back with at least one encore, or maybe ten? Just one,
40 Days
. I yelled like a foo '
Primal
', but I was sure it could not happen.
Golden Hair
was fragile and stunning, with several waves of crescendo and placid calm. Call that, shoegaze. Simon gently gave his drumsticks to someone into the audience.
40 Days
- sole encore - was mostly fully sing-along with the public. Some screamed 'we love you'. Easy to understand why. I wish I had the time and money to follow
Slowdive
on tour. What a celestial band. Musical elegy. I'm sure the kids from
Brothers in Law
,
Be Forest
, and
Soviet Soviet
had
a big time there
.
Unfortunately, there was
no merchandise
.
PS. No, I did not bring a camera with me, just my shitty smartphone, so no vids, no good photos, I just wanted to enjoy the show like the old good days.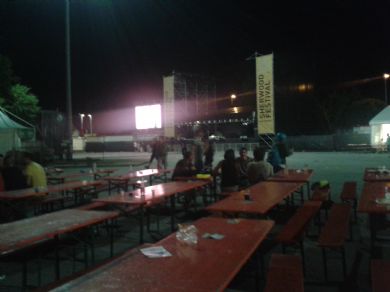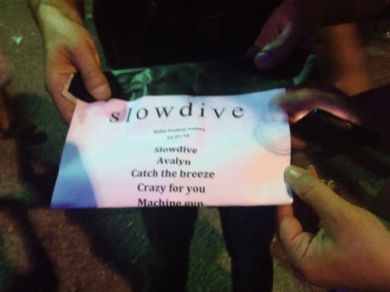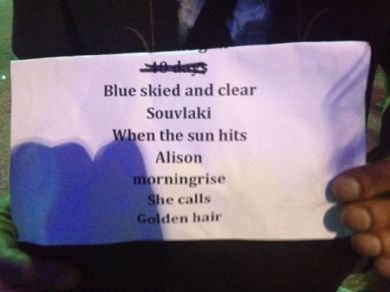 Front picture by
Christoph Konzerttagebuch!
Tracklist pic by Esme.
But, a bunch of beautiful pictures - not by me -
here
, and live vids
there
.
Feedback:

pall

writes:
Never say never! I'm pretty sure Australia is next!
(21/07/2014 10:49:00 - ip: 89.97....)

Amps writes:
JEALOUS!!!!!!!! Will they come to Australia?? Highly unlikely! :-( Wonderful review! Almost felt like I was there!
(21/07/2014 10:48:00 - ip: 101.17...)
Leave a feedback about this post, or don't. your sweet name:
your IMPORTANT text:
url:
icon:
will be resized 30x30pxl