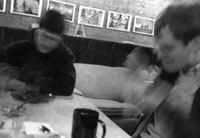 Line up: Andrew, Chris, & Jerry
k: In Yr Music it feels like to be on a small ship, away from dry land, and in the middle of a storm, sometimes it's a smooth sea, but the sky is always grey and dark, - then suddenly the sea turns rough, heavy, it rains, cold, melanchony.. it's a beautiful sensation, romantic emotions.. Silver line on a Black Sea seems to be a perfect title for this album. Andrew R Benn: thank you, some people have said the same thing in a very condescending fashion, as if these emotions were plagiarized or owned by someone... k: forgive my ignorance.. what's the Potomac Accord? And how old are You? A: our average age is 25, the potomac accord is a name that we fabricated ourselves, and we have spent just over one year into all of this... k: how much improvisation is there in Yr Music? i mean, do You let Your-self fly into Music, or does someone write everything looking for a particular sound? A: we write like most bands write. someone will play a part for awhile and ideas will develop there, or sometimes someone will have an entire portion of a song written and thought out, and we begin from there... often discussing and talking about ideas, sound, and shape. k: do You ever talk between You of Yr Music, about what You're playing or some sort of points You reach during a song? Or is a kind of silent empathy? Andrew: we always talk or gesture, it is what makes our relationship worthwhile and memorable... sometimes the talking is done with a smile or wide-eyed look, other times it involves us sitting around holding our instruments or sitting on the porch discussing ideas for an hour. k: How do You feel when You play Yr songs? They're in of a touching spirit, but i like to image You smile of happiness (the happyness of creation) when You do them.. A: we feel satisfied with ourselves within that moment... k: What/who are You listening to in recent times? La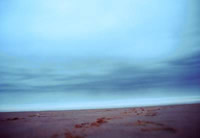 st bought cd/album? Andrew: my record player is being serviced right now so we have mostly been listening to the cold wind at night, talking to friends, and trying to see as many local bands as possible, with the hope that maybe others will do the same. we saw a band we had never heard of from california called the mars volta play last week and i thought it was the best show i had ever seen in my life, and the oxes were great last evening. k: Have any of You been in an other Band in past? Andrew: we all have a history, every one of us, every person... and for us a portion of that is playing music in the past with our friends under certain names. it was never very serious or ambituous outside of the concrete basement we practiced in. k: Tell me (in case You didn't before), are You dealing with any label? A: no labels, only working amongst ourselves making our own decisions, avoiding any other situation removed from that. k: What about that woman talking on All Eyes On Me? A movie? I like to think Yr Music, especially the instrumental moments, could be perfect for an elegant movie. A: what do you want to know about the woman talking on all eyes on me, it was very real life... and a very unfortunate and sad situation. k: (that's enough) - How is life in St Louise? Is a good place for Potomac, or You think 'if only we lived in this or that_town'? Or is there a so-called scene over there where You have some following? A: st. louis is a decaying graveyard, filled often with empty emotions and rediculous intentions or dreams. it's hard to help the dreams of self-important superstars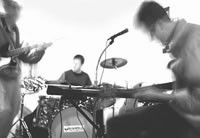 in search of labels that could generate recognition, extensive touring, and money. k: Anyway, i read You have toured that East Coast, Canada, and other portions of USA, - would You be interested in Europe? Andrew: as far as touring is concerned we think about playing overseas everyday, but at the moment it is not financially feasible or economical. we know where to begin setting such an endeavor up, but where to go from there is the confusing and challenging part. for a band as unfamiliar to most people as ours it would be very difficult and very interesting in my opinion. i have been to europe several times and ever experience has been unforgettable. k: What about the new recordings? Are they in line with this album or not? A: they are representative of our daily situations and experiences amongst ourselves and within our environment, and right now it is cold, dark, and filled with so many awful ideals and presumptions.
Info: You can address to
418 park charles blvd south
st. peters mo 63376
usa
to order a postage paid record you can send 13,43€, or more preferrably $10 US dollars. You can purchase it on-line too, - just visit Their homepage on www.potomacaccord.com.

Mp3's, bio, pics and news on www.potomacaccord.com.
Interview appeared on komakino#9, december 'o1, by paolo miceli. Review of Silver Line on A Black Sea here.
Feedback:
not yet, probably nobody cares, or nobody cared enough to tell something. Also: nobody reads komakino.
Leave a feedback about this post, or don't. your sweet name:
your IMPORTANT text:
url:
icon:
will be resized 30x30pxl