 Spotlight Kid
are a unity of 6. Years ago, a friend of mine passed me their debut full-lenght release
Departure
(2006, AC30) saying me '
this is
Six by Seven
's drummer shoegaze band, you'll like them
'. Actually He was right. I really do. And I'm liking them even more and more
, especially because of the new double A-side single
All Is Real / April, - released today, a limited 7″ vinyl (250 only). Their songs are a perfect balance of celestial shoegaze and a cathartic fire of guitar driven passionate tunes.. I had a chat with Rob, one of the guitars and voices of this amazing Band.
***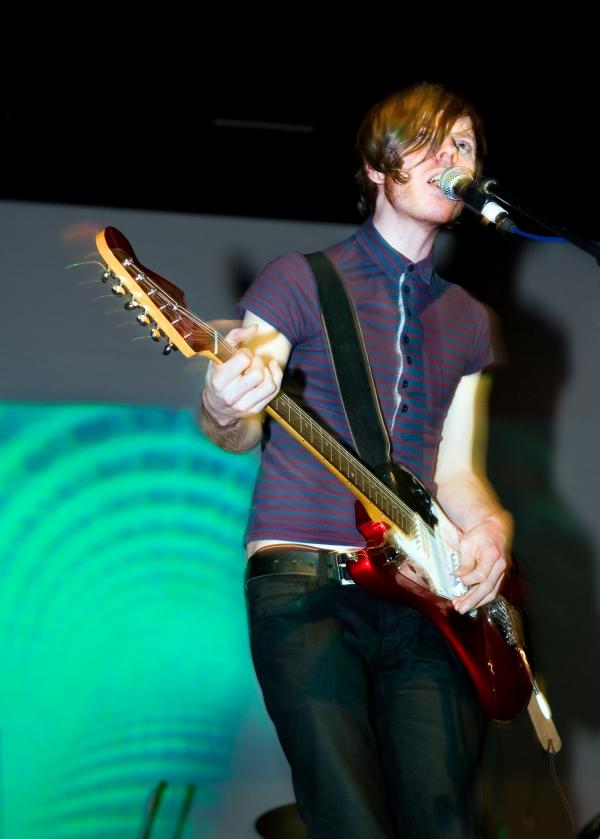 komakino:
knock knock, who's there?
Rob McCleary
: Hi I am Rob McCleary, guitarist and singer in
Spotlight Kid
komakino
: Let's start from the very next future: 7'' two song single
All Is Real / April
, release due to next November 1st through
ClubA30
, - I feel like these tracks share a common cathartic load, two different dosages of a similar trascendental chemistry.. do you have any personal image you associate to these songs? what are your feeling for these pieces?
Rob McCleary
: These songs are
Spotlight Kid
. It shows all elements of this band. The guitars, the mixed vocals.
April
has a pop element whilst
All is Real
is a full on guitar song which doesn't let you go until its finished. We had to release them as a double a side as they are both as important as the other. When we play these songs live i get lost in them and I always look at the faces to see the reaction when we go into the droney part in
All is Real
. Its great.
komakino
: Are these new songs? I mean, they are recently written, or they have been in your drawer for a long while?
Rob McCleary
:
All Is Real
has been around for a while in different shapes and sizes and then when me Chris [Davis,
k's note
] and Rich [Davidson,
k's note
] joined we added our own wall of noise to it and then as a band we just broke it down and started all over again with it.
April
was one of the first tracks that Chris played to us when we joined and first time I heard it i knew it would be some kind of single. It has a pop element that we are not ashamed to appreciate.
komakino
: Should we consider the songs of
Crystal Dreams
EP and these last two a preview of a forthcoming full length album? Or will it be something completly new?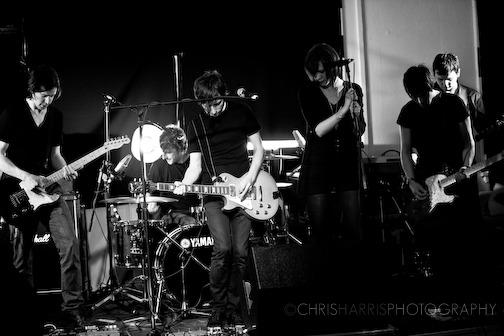 Rob McCleary
: I have always admired bands that can move forward with every release and do completely new songs. We said at a very early stage that the tracks on the
Crystal Dreams
EP wouldn't be on the album and we are sticking with that. It gives the EP credit and for people who have followed us and always supported us they get something unique. We are good to enough to move forward and write new songs and the album will show this.
April
&
All is Real
are a preview of the album but they will be re-recorded and they may change, you never know. It gives the 7'' its own unique place.
komakino
: What's behind your songs? I mean, people often take them just for what they are, a three minutes long quickie, maybe more, they enjoy the excitement of the melody, but there's nothing written about the time, blood and grey matter spent after its writing.. it is kinda like when you buy an apple: you just grab it from the grocery stall, but most of us ignore what's behind: who planted the tree, the years it took to grow, who took care of it, the fruit crop, the selection, the transport to the grocery, .. and so on.. so, do you like apples?
Rob McCleary
: I think Chris can answer this better than me as he wrote these songs and especially the lyrics.
komakino
: You are six, who mainly take care of the mixing and mastering process?
Rob McCleary
: Our guitarist Chris Moore and Chris Davis do all the mixing and we also have some friends in Nottingham who will take it on. I haven't got the patience to do it.
komakino
: Let's call it shoegaze, dreampop, psychedelic pop rock, - anyway, you have a bunch of guitars and related pedals.. have you ever thought to play 'acoustic' versions of your songs?
Rob McCleary
: Yes we have played "April" and "There's A Reason Why" acoustically before and it sounded ok. Chris M has written an acoustic track that reminds me of "Dagger" by
Slowdive
, its beautiful and doesn't need much more doing to it.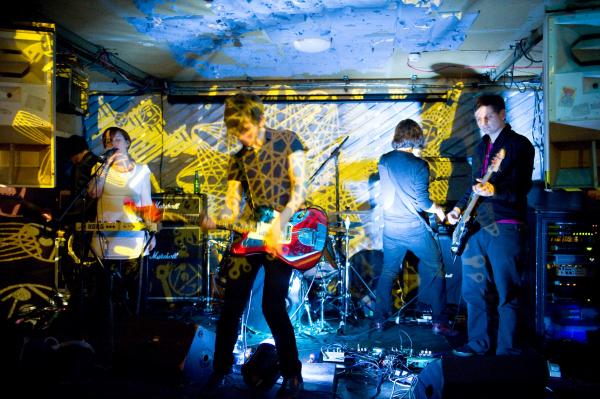 komakino
: Can you remember the original reason you decided to make your own music? Is still the same today?
Rob McCleary
: I was given a guitar by my sister when I was about 16 and i tried to learn by doing covers and reading books but it didn't feel natural, then I knew I wanted to do my own stuff. I would listen to bands and think I can do better than that and then I met Chris Moore and started listening to
Slowdive
and that was that really...
komakino
: How the
Spotlight Kid
thing started? Plus, you hade some line-up changes in last years.
Rob McCleary
: I was the guitarist in a band called
Model Morning
for about 5 years and we met Chris Davis through friends. We were big fans of
Spotlight Kid
before we joined. When we would be rehearsing with
Model Morning
we would have a few beers and whack
Spotlight Kid
album on and dance round the room.... to be in the band now is amazing and to get to play tracks like "Cant Let Go This Feeling" & "Seefeel" is great.
komakino
:
The Spotlight Kid
is the sixth album by
Captain Beefheart
.. did it ever happen someone asked you to play a cover of Capt Beefheart?
Rob McCleary
: Not yet
komakino
: Can you explain why nobody been able to successfully commercialise any (so tagged) shoegaze band? Or am I missing someone? I mean, maybe (or for sure) this is the luck why shoegaze/dreampop still (often) sounds genuine nowadays, but, I think it is strange no mainstream label ever tried this "leap of faith".. maybe is it really un-commercializable? Differently, I often sense some potential pop nuances in most shoegaze bands.
Rob McCleary
: I don't think that is strictly true. Bands like
Autolux
,
BRMC
,
Amusement Parks on Fire
,
Boxer Rebellion
,
Beach House
,
Warpaint
,
Chapel Club
,
Crystal Stilts
.... I could go on. All these bands have elements of shoegaze and although they are not strictly "mainstream" they never will be and who would want them too!! I don't think mainstream is ready for our bands and we don't need them anyway. Look at
Creation Records
and some of the great bands that they signed who never made it mainstream yet are now influencing thousands of bands, I would rather influence than make money.
komakino
: How often do you rehearsal per week? Do you a have your own rehearsal studio, maybe you share it other bands?
Rob McCleary
: We try and practice a couple of times a week. If we are not practicing we try and get down and even just listen to some music and have a couple of beers. We are very fortunate to have our own place that we can go to 24 hours a day and record all our demo's. The new single was recorded in our room so it saves us money that we can spend on gigging etc.
komakino
: You were saying you have side projects..
Rob McCleary
: Me, Chris and our ex bass player Rich have a project called "
When The Sun Hits
" [
watch video
,
k's note
]. We are trying to get Davis to play the drums but he is usually busy watching "
Come Dine With Me
".
komakino
: He's a foodgazer! - Is there are record you still play after more than a decade?
Rob McCleary
: Yeah loads. I love
The Strokes
(showing my youth) and of course
MBV
and pretty much any band on
Creation
. I love new music, i need to be kept excited. I don't like looking to the past.
komakino
: Just a curiosity question.. can you read a pentameter/stave, I mean, music sheet?
Rob McCleary
: No. I can just about read full stop.
komakino
: So, when are you coming in Italy for a couple of gigs?
Rob McCleary
: Would love to come and play. Anytime
komakino
: hopefully soon! thank you Rob.
Rob McCleary
: Thanks for your time!
****************
Info, sounds:
spotlightkidsound.co.uk
|
myspace.com/spotlightkidsound
|
shop here
Feedback:
not yet, probably nobody cares, or nobody cared enough to tell something. Also: nobody reads komakino.
Leave a feedback about this post, or don't. your sweet name:
your IMPORTANT text:
url:
icon:
will be resized 30x30pxl