 La Calle Mojada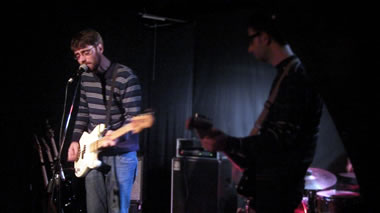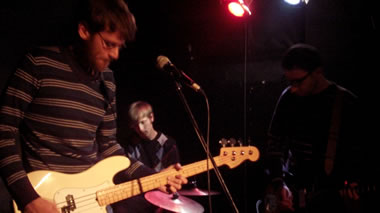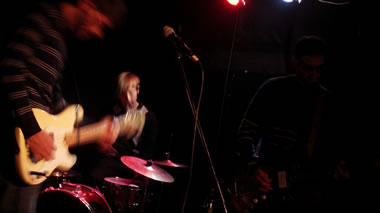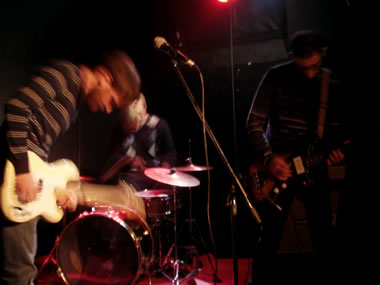 June Miller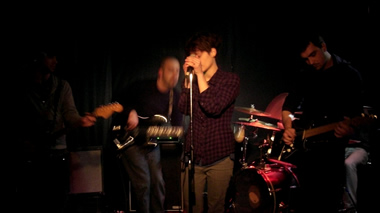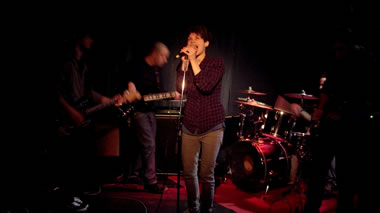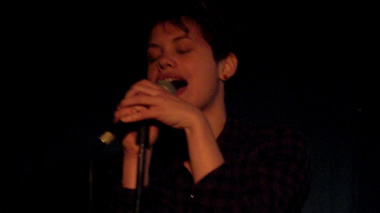 No words about
La Calle Mojada
this round, - i mean, i'm always here talking about them.. browse my former posts for that, - i'm too tired this month to tell you again how great they are.
They supported
June Miller
last night in Rome, - a young band from northern italy,
Marsiglia
rec. We were just a few devils to enjoy both shows. That sad, yeah.
Anyway, -
June Miller
on myspace are pretty cool and similar to
The Appleseed Cast
for many reasons.
Live, it looks to me like things are pretty different: they have a stunning female singer, - minute girl, big and warm voice, - something clear to everyone since the very beginning of the show.
But personally, her voice reminded me too much of
Alanis Morrisette
, - but if she only got rid of that ghost asap, - i would be ready to bet on an amazing future in Music.
The guys from the band were pretty good in playing, - but the music sounded more mainstream than i could get.
Anyway, the below first video been a short unplugged parenthesis of
June Miller
' show (no, the girl's name is not June, but Federica), - and frankly, what i enjoyed most about them: no amps, no mics, - just Music, dry and bloody, emotive, distressed, emotional, autistic, - a brief song of pain and poetry, - and in the background, all the other people laughing, drinking and totally ignoring what was happening behind the hall curtain.. - i totally loved it.
ps. apologies for my crappy audio/video device
Feedback:

pall youhideme

writes:
Beh sTe, dal vivo da noi (perchè su myspace mi sono sembrati un pò diversi) avevano un sound e scrittura un pò troppo mainstream per i miei gusti, un pò troppo digressivi - forse anche, - però commerciali no. Poi tutti bravi musicisti, per carità, e nota particolare per la cantante. Eh sì, buona fortuna a loro.
(14/04/2010 10:04:00 - ip: 89.97....)

sTe writes:
Scusa pall youhideme, forse ho interpretato male la frase nell'articolo "but the music sounded more mainstream than i could get " nel caso, chiedo venia e cmq ribadisco che di questi tempi ho visto pochi gruppi di tale caratura, devono essere preservati!!spero veramente abbiano fortuna....
(14/04/2010 09:38:00 - ip: 79.44....)

pall youhideme writes:
@ sTe, nessuno (qui) ha scritto che sono commerciali..
(13/04/2010 14:27:00 - ip: 89.97....)

sTe writes:
Visti quest'inverno all'ortosonico, sono una bomba...commerciali? Scusate ma dove? ma è lo stesso gruppo visto da me?
(13/04/2010 14:23:00 - ip: 79.44....)

pall youhideme

writes:
@ FryHc, no no, per carità, dov'è che li avrei stroncati? Avvicinarli a The Appleseed Cast e dire che lei ha una voce da paura, e poi controbattere che per me suonano troppo mainstream e ci ho sentito la Morrisette non è stroncarli, è solo dire che a me non hanno convinto, parere non meno personale di quello di altri (i.e. Tu) che invece possono aver apprezzato. Su myspace canta spesso anche uno dei due chitarristi, ed ha anche lui una voce notevole, che dal live non usciva proprio. Cmq, felicissimo che se ne parli! - In ogni modo, c'era un ragazzo dello studio 1 che ha ripreso tutto il concerto, se non sbaglio, e mi pareva fosse attrezzato con una telecamera professional. cheers
(09/02/2010 10:26:00 - ip: 89.97....)

FryHc writes:
Ascoltato il Myspace, il suonato a me sembra molto simile, anche se quello di ora sicuramente è molto più elaborato. L'unica cosa che dico e che ho scritto sotto, è che gruppi del genere, che tentano di proporti roba personale, tosta e di livello avrebbero bisogno di essere ascoltati a fondo e purtroppol'articolo, per chi legge, sembra una stroncatura che di certo, nonostante i problemi tecnici che hanno avuto, non si meritano davvero; altrimenti nnamo tutti a casa. Poi come dice youhide "de gustibus". @Federico concordo sul Cedric, soprattutto sul modo di cantare assolutamente no su Morrisette, se devo trovare una somiglianza, come timbro direi cantante degli Knife o Cat Power. Cmq bello poter discutere e sentire le opinioni di tutti!
(09/02/2010 09:25:00 - ip: 79.30....)

federico writes:
ma a me federca ha ricordato anche cedric baxtler. però il timbro è un pò alla Morrisette... i la calle sono i meglio e tutti dovrebbero essere ultrapuntuali ai loro concerti
(08/02/2010 20:26:00 - ip: 93.40....)

pall youhideme

writes:
@ FryHc, mah, semplicemente non la mia cup of tea, de gustibus, due generi diversi, poi, che dire. Myspace ci sta per le orecchie di tutti, anzi, invito ad andarli a sentire, altrimenti nemmeno ne parlerei; - il pezzo acustico dei JM è davvero bello.
(08/02/2010 19:17:00 - ip: 78.13....)

FryHc writes:
Regà, tra i pochi ad essere al concerto ma ne è valsa la pena. Spiace, per niente d'accordo con te youhideme, mainstream, alanis morrisette, non ci sento prprio nulla di tutto ciò, io ho sentito del gran bell'indie rock, coraggioso e ben suonato. Deliziosi ma un po' ripetitivi La Calle.
(08/02/2010 18:29:00 - ip: 79.41....)

federico writes:
ah "come si chiama la canzone che avete registrato oggi?"
(08/02/2010 15:25:00 - ip: 93.40....)
Leave a feedback about this post, or don't. your sweet name:
your IMPORTANT text:
url:
icon:
will be resized 30x30pxl