 I like open-minded, up and coming people, - and here we are with Nina and Johanna Piroth, two young girls founding their own record label, self-releasing two albums, and touring Europe for the second time in two years.
Actually, in a couple of days They'll be in Copenhagen (DK), then, Germany, Luxemburg, France, Itally and again northern Europe: komakino officially supports Their gigs in Italy, managed by
HeadphonesMan Agency
, so, here we go with a brief chat with the two; hints: Harald Björk and Nathan Fake, diy, some educational records for your little sister, the Hansons Brothers.
***

komakino:
hi there, - can You introduce us to your Band? How did two sisters decide to join forces and record Music together? Can You remember the very first time playing together?
Piroth
: We have always been surounded with music, our mother played for us as children and we started singing in a choir and played violins together in many years.
Then we had a band with a friend in high school. But the very first time we played together was in the beginning of the 90's in the austrian alps. We sat on a big wooden balcony in an old house where we used to spend the summers, with view over mountains and valleys.
komakino:
You founded your own record label, too, - 'Oma Gusti' - so You're what people call d.i.y.; - weren't You interested in being under the protective wind of any indie? - ps. what's the name is for?
Piroth
: We always had this dream of making it ourselves, to have our own label. So we did it and we have learned a lot and it has been important for us to
make it in our way. But it's a hell of work. Actually we thought many times of releasing the records on other labels so we didn't have to do everything ourselves. We'll see in the future. Maybe we will release something on another label aswell. If we find a nice one where we still can decide a lot and make our ideas come true. Oma Gusti is what we called our grandmother, a really cool person whom started one of the first record stores in Salzburg.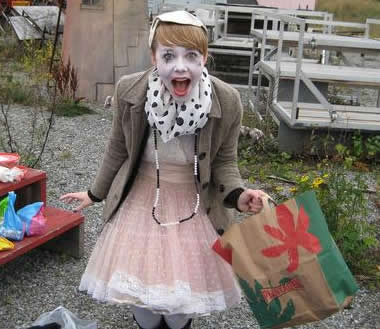 komakino:
Is Oma Gusti going to release other bands' stuff, or it is just an end unto your own records? i read on your website that you have degrees in project management and music production, - so why not?
Piroth
: Yes we planned to release other bands also. But now it is a question of
time, money and finding good and special bands. Next thing is to release a remix record (in vinyl and mp3's) with remixes of our songs in electro/techno style. The producers
Harald Björk
and
Nathan Fake
already made really fantastic remixes that is just waiting to be released! We don't exactly now when, but hopefully soon.
komakino:
Ok, Your surname is Piroth, and Your band's name is Piroth: did
You ever consider the idea to choose a sort of 'band name' instead?
Piroth
: No not really because we didn't find a good name for our band. But first we thought of Piroth Sisters but it sounded so stupid. Like the
Hanson
-brothers or something...you remember
Mmm Bop
? Actually we
played that song with our old band when we were 13... :)

komakino:
hehehehehe yeah, i remember
Mmm bop
, - in heavy rotation on MTV, - and i remember that at the beginning i used to think that the boy at the keyboard was a girl. Anyway, - any major musical influences? I mean, does it never happen that one of You says to the other '
hey wait, that riff you're playing sounds too much à la...
'
Piroth
: Yeah I guess it happened some times. Some one comes up with a melody and the other one says "
it sounds like that song....
" but actually it doesn't happen that often which is good. And if it happens we try to change that part of the song, we are really not much into copy/pasting.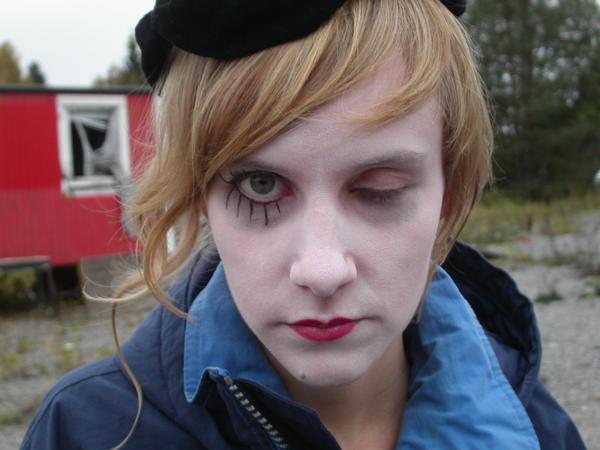 komakino:
Do You have a kind of recourring songwriting process? I mean, playing guitar in your room, - where do Your songs take form?
Piroth
: Oh, it's very different. It could be home, it could be out walking, when we are travelling. The last year we wrote some songs on trains. In the last years we managed to have some kind of "telepathic" process where we were both writing songs on different places when we studied in different towns. Then we found out these different song-parts fits really good together. "Hurt Little birds" is an example of a song we made that way.
komakino:
Do You live together? If i'm not much intrusive, can i ask you if
you have a "regular" job and if, how you manage job and music?
Piroth
: No way! We spend too much time together anyway. But we live 5 stops away from each other with the train. And it's a nice lake between us where you can walk over when it's winter and ice. Yes we have other jobs also. Nina is working as a Project Manager starting up a youth centre for youths whom are visually handicapped and Johanna just finished her Music production studies at the University and is now also working with youths who wants to start bands after school. We are now also starting up what we call a "creative collective", we are 15 artists starting a common working place, with studio, a place to rehearsal, working space sand offices etc. in Stockholm.
komakino:
- That sounds cool! - You just released a new album,
Safe Heaven
, - it sounds to me very evocative, indiepop and folk (
When the night is over / Hurt little birds
), can You define the differences with
Prima Ballerina
?
Piroth
: Actually it is SAFE HAVEN, not heaven...[
SHAME ON ME!!
editor's note],
:-(
] but you are not the first to misunderstand it. Even the biggest radio station in Sweden did it last week when they interviewed us. The difference is that we recorded
Prima Ballerina
in one week, songs we made when we were younger, we wanted to make a quiet, nice, soft, bossanova influenced album. We took a big step then even to record other musicians. On
Safe Haven
we think we have grown up, started to look for some edges, other musicians and what they can add to the music, started to record the arrangements we could hear in out heads as we made the songs.
Safe Haven
is darker, heavier, we give more of ourselves, and it took us long to record all songs and to work with them.
Safe Haven
is a mixture between everything that has been Piroth for the last years. Silent harmonies singing from the window of Nina's kitchen looking out to the autumn as in "
Television Tower
", and the feeling of getting haunted by your own thoughts as in "
When the night is over
", recorded together with
Markus Kärnebro
on Drums (whom is a skate punker and a fantastic musician), and Johanna's guitar play that makes Nina get goose bumps almost every time when she hears it. Then we also made a funny move to make the last song be a German song that we recorded in a very nice studio in Berlin some years ago called "
Irgendwo
", Somewhere. Then you have our punk/rock song "
Theatre
" that is so much energy to play, we would never have done anything like that on
Prima Ballerina
. There's a time for everything and we make what's funny and what has to come out from our hearts and brains for the moment..
komakino:
- So, i see that next November You're going to tour Italy, France,Germany, Austria, - and also last year You made a massive european
round, - are you going to perform You two alone, or youll be supported by a full band?
Piroth
: This time it will be the two of us and the train. Next time we would love to take the new band with us. Since it's very, very new we could not really take them with us right now. We have to think about a lot of things regarding this. Since we really like going by train (it's really hard taking a whole band on the train), and we are still a small band and we have to be able to pay our musicians well if we are going to take them away from their works and families at home for one month
komakino:
- Do You think You can suggest a sort of
educational
alternative music record? I mean, i remember that in
Sonic Youth
's
Evol - reissue

1993
-, there was featured a fan's letter saying about those songs
"
Give them to your little sister on her birthday.
": if You could go back in time, what album would You give as a gift to your little sister?
Piroth
: Yeah sure, here are some good songs and albums that we did listen to alone, and together. A real jewellery box! Enjoy!
Gravenhurst
–
Bluebeard
Gravenhurst –
She Dances
Patti Smith
–
Cartwheels
Del Shannon
–
Gemeni
Poolski remix of Del Shannon –
Gemeni
The smashing punpkins –
To Sheila
The Knife
–
Silent Shout
The Knife – "I'm in love with your brother"... don't remember the exact title…
Joanna Newsom
–
The book of right on
Anna Ternheim
's version of Broder Daniel's –
Shoreline
Darko Rundek
–
Ruke
Devandra Banhart
–
At the Hop
(acoustic version)
Fleet Foxes
–
Your protector
Althea and Donna
–
Uptown ranking
Francoise Hardy
-
If you listen
Feist
-
Leisure suite
(demo version)
Gravenhurst -
Hourglass
Joy Division
-
She's lost control again
,
Love will tear us apart
Kate Bush
-
Army Dreamers
Quarks
-
Nobody
Yeah Yeah Yeahs
-
Maps and the whole Fever To Tell
album
Kings of Convenience
-
Riot on an empty street
(album)
Kings of Convenience -
Toxic Girl/I don't know what I can save you from
(versus)
Feedback:
not yet, probably nobody cares, or nobody cared enough to tell something. Also: nobody reads komakino.
Leave a feedback about this post, or don't. your sweet name:
your IMPORTANT text:
url:
icon:
will be resized 30x30pxl