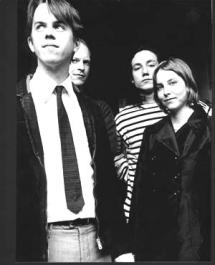 As promised, let's back to the Mo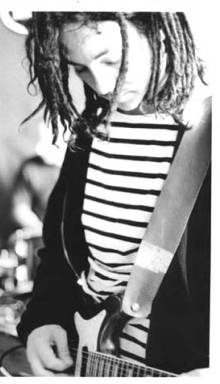 onbabies, a great Band from Sweden, with a dreaming gtr-driven style, and love for electronic experiments. The nucleus sees Ola & Carina, both at vcls and poly-instrumentalists, at beginning together w/ Marcus Weitner (gtr), Mans Wieslander (bs) + Conny Stade (drms). Now great things are about to happen, in april and may They're touring the u.s.a., as duo-formula in a both acoustic both electronic performance.. K: Ok, i would like You try to introduce us the Moonbabies. Why did you choose to play music? And why Moonbabies? Ola: Why the name Moonbabies? The name was taken from the lyrics of a song we was listening a lot to during the time we started to play together. We thought it might fit the music we wanted to make because it's both a little naive, and also it symbolise mysticism and love and late nights - which all are things that fit the mood of our music and personalities. Carina: Moonbabies is a good name, because we record most of our songs (babies) at night. Ola: Moonbabies play diverse music, we started to play together back in 1996, and during the first years we played mostly guitar driven drone music. With the release of our first album June and Novas we've gone genre-less. Both easy pop songs and experimental instrumental music. We record what we feel like, nothing is planned. Our inspiration comes from very different musical styles. k: If Moonbabies were a 60s band, what kind of music would do they play? Did you ever think about it? I mean, is this the right time for Moonbabies? Right place? Ola: hehe. I think most people in my generation have daydreamed about a life in the 60s. We Definitely would have been playing psychedelic noise rock. hehe. When I think of it, I still think 2000 is the right time for us. I read somewhere on the internet that a guy said that Moonbabies played 2000s music and was the future for pop music. That was one of the greatest reviews I think we've ever got. I wish people in Sweden would think of us that way. Haha. k: You know, in some songs, i.e. as we're layabouts, my buddy buddy or the voices on slowmono [these 3 are my favourite!] make me think to an influence à la My Bloody Valentine, dipped into a sort of seattle-ish 60s way of being, but, - Carina's voice sometimes has something Irish, as pitching, and everything is often permeated with electronic experiments. Where are Moonbabies going? Ola: Yes your right. MBV is a huge influence. They're the only shoegazer/dreampop band we listen to. Not very much, nowadays though. I used the same type of guitar playing for a long time, yes even on slowmono from the e.p. and my buddybuddy on the album. But since we got compared to MBV in most reviews we got on our demos, we started to re-think the whole thing, and dropped the influence a bit. Carina: I've heard from a lot of people about my Irish influence in my voice, but I really can't see why? It's nothing I personally listen too. Ola: I think we're going far and far away from everything with our music. I think what you heard on the album, such as kissing underwater, sister gold and we're layabouts is the way we're heading. Plus in a whole lot of different "new" ways. I don't know what you should expect from us in the future, perhaps something completely different. We have nothing specific planned, it's much more exciting and creative that way. k: Can You tell me something about Yr relationship with labels and the d.i.y.? What about Mp3.com? Ola: We are very d.i.y. because we do everything ourselves, and have always done. The songs, the recordings, the album sleeves, the design of our website, our advertisements in magazines, our promotion. We work and live with moonbabies 24 hours a day. That's the truth. And things have started to happen for our band, we now have lots of music released on different labels all around the world. Our relationship with labels have (until now) been on a non-exclusive basis, which means that we split the money we make between the label and us. Carina: The mp3.com thing is really something positive going on. We've made lots of fans from it. k: How are Your concert? I mean, I guess now Moonbabies is You and Carina, so.. Ola: We're rehearsing for our shows in USA right now. We'll be playing concerts in Seattle and Portland in April Next year. Carina: We'll do an electronic performance with some kind of psychedelic visualisation. Right now we have some months for rehearsing to actually create the feeling we want on stage this time. It'll just be Ola and me on stage, not our live band over here in Sweden, they'll have to stay at home this time. k: Do You remember the ever first LP or cassette You bought? And what about the last? Ola: The first album I bought with my own money was Pink Floyd's The Wall and I was 5 years old. The last one was Radiohead's Kid A. Carina: First one some ABBA LP, last one was Field Studies by Quasi - great album! k: The coolest thing happened to you.. Ola: One of the coolest thing that's happened to me was, after 6 months in the studio working my arse off, to get the June and Novas CD in my hand. I felt incredibly satisfied. Carina: I definitely agree on that. k: Hey, I found Moonbabies on napster! Are You famous? Ola: Oh yeah, incredibly famous. Just kidding. No, but I know that a lot of people listen and download our music from mp3 sites. That's cool to know. K: a last question, who are June & Novas? June is the month and novas the starlet skies. I came up with the title when we wrote the song "june and Novas". It was one late night in June 1999. The starlight was intense, bright and beautiful that night and we watched them from out window. It's just as simple as that. [interview done in november 'o0, by email].
7" air>>>moon>>>stereo ep - If You love the cd (You can purchase it directly through Their site..), You cannot miss this 7" (one edit + 3 unreleased), especially because of Slowmono, - it's a pity this beautiful song wasn't on june and novas. It's a good trk, suddenly brighter in a gtr-driven style, after a brief soft crescendo-run, fertile exploding in magic distortion and melancholic moods with Their voices thawing. Starlet is a sweet ballad, always with a sort of My Bloody Valentine-memory, - and brand new coat keeps feeding an inexpressible as well as special nostalgic background state. One of many demo tapes behind Their back has been released by the italian tape-label best kept secret (c/o Alessandro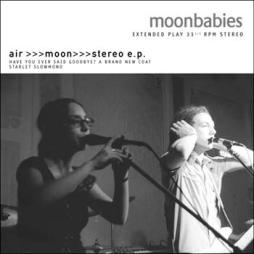 Crestati - v. Biron di Sotto, 1o1 – 361oo Vicenza – Italy – acrestani@telemar.it), that is Climbing Up These Miles, including as much as 24 songs + an outro, with several previous version of trk appeared on june and novas (it's interesting hearing as these songs were rough diamonds at the beginning), i.e. the same june & novas (without intro), or have u ever said goodbye, city walk, as well as the ultra-sad in our house, lost between piano, drums and bass guitar, - and so many other songs in acoustic homemade style. The title trk takes a trip on very sweet notes, as well as In The Banshees, This Woman Needs A Doctor, - in these tunes there's an original way of being , begot by a guitar able to explain into music Ola's soul. You listen to It, and so You say, yes, here Moonbabiesare. This is shining. Hoping They came soon in italy, good listen. Info: malmobabies@hotmail.com - www.mp3.com/moonbaby (a lot of mp3's), https://www.moonbabiesmusic.com/ - moonbabies c/o Ola Frick - Kamrergatan 7a - 211 56 Malmφ – Sweden. Duckweed rec à www.duckweedrecords.com
interview taken from komakino#6 [another review on the #5], january 'o1
Feedback:
not yet, probably nobody cares, or nobody cared enough to tell something. Also: nobody reads komakino.
Leave a feedback about this post, or don't. your sweet name:
your IMPORTANT text:
url:
icon:
will be resized 30x30pxl