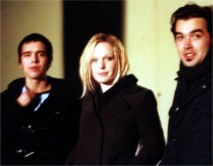 Remington Super 60 - Yes yes, They're super 60s, but as if in 60s people can easily concept the 2oo1, in all the sweetness of the French çhanson, - but in any away also a world dominated by small Casio keyboards (whose Remington seem to have a wide collection), then by the empire of that kind of posters where from a kiss of a boy and girl spreads out a mega-sunset with fantastic warm colours (hey, but it's just the cover of Their Pling2oo1 cd), heavy sweaters (hey, but it's the cover of Their Xmas in May), the computer HAL9000 [hey, I was reading that HAL are the letters coming before IBM.. hmmm] - lost on the very soft and thin voice of Benedicte Sveinsson (kind of angel (or robot, as it's often stated on Remington's songs titles) between Alison Shaw and Vanessa Paradis), a grace who makes You fall in love without thinking twice, head over heels in love, (Motorcars & Aeroplanes, for example, where she whispers as a shadow behind delicate Magnus Abelsen (also playing the bass)), lost on pop-py Christoffer Schou's songs, sometimes a bit à la Beach Boys without surf [please, don't kill me!], Nordic and in loved, - and then add a lot of psychedelia. <<Hey, tell the truth, it looked they were improvising, isn't it? And now listen this stuff! they kick!>>, well, that's what (bad translated) my friend Nicola told me while he made me listen for the first time the opening song of Pling2oo1 (cd 14 tx), released the past year by Italian S.H.A.D.O. rec, who starts with an electronic bizarre joke, but then it flows into a song really perfect, shining in its refinement. What a luck when some hours after I found the cd at a low price in the music shop under his house! Oh No, Oh Yeah, as Please Don't Go, is natural purity corrupted with Casio-ish electronics, that, to be precise and say it better, it's like a computer who whistles, kind of dèja-vu and a future who won't be. - With this style, hybrid of bossanova/funk/poppy/psichedelic, Benedicte's voice reaches an impossible apex of ethereal/intangible. The three look also having fun, i.e. on the ep Christmas In May (cd 5tx, Cafe2oo1 rec) where an automatic Santa Claus keeps demanding What Would You Like For Xmas? Have You Been Good This Year little Girl? And just on What Would You Like For Xmas? the answer is the delicate Motorcars & Aeroplanes. Is really the Untitled#3 a live song? People have their drink, some laughs on the background, it looks like a piano-bar of some chalet lost between the snows of past, and these people are missing a great song! To close, there's a hallucinogen called rs60 in space, kind of a space-ship and travel for a guitarist and his living toys. Then, let's summarize, 60's, the future, the space, the bossanova, the psychedelia and 2 angels at voices. I can't resist, I need to do an interview, and helped by the friend Nicola i got in touch with Christoffer.
Nikola: It looks like at the centre of Your music there is that feeling called love: do You think love is a supreme value, which can be source of inspiration, or what else? Christoffer: Well pop music has always been about love, so i guess it got some value. But I get more inspiration from my thoughts that sometime pretend to have a love life hehe. Nik:How did You get in touch with SHADO records? C:My friend Christer Jensen from the group Micromars got in touch with them first, and then he recommended Remington super to them. N + Paolo: How much success did Yr discography receive? And in what countries? I see You distribute Yr music also in Japan (Automatic Kiss records).. C: Well I am not sure how many albums we have sold, but we have received a lot of good reviews and stuff, in various countries (USA, Germany; Italy, Norway, Spain, Japan) So I guess we have had some small success in a way, when you consider that I recorded the album in my bedroom using Casio keyboards and a computer with a cheap software program :) N: Are You planning some tour? Where do You usually have Yr live performances? Christoffer: No we are not currently planning any tours, we have only played in Norway, next year when we release our next album (on the Norwegian label: Trust Me records) we will plan a tour. The problem we have almost always had, is that we are mainly a recording project. And I only meet the other members when I need them to record vocals. So w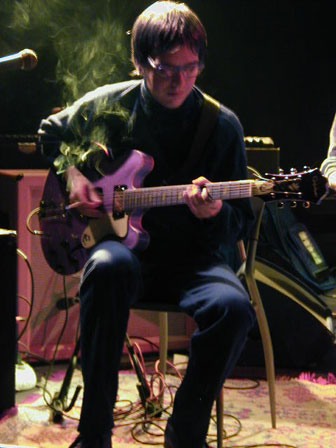 e never rehearses that's why we haven't played that many gigs, but we have planned to use the next summer to make us into a band. N: What do You think about other neo-lounge bands (Die Moulinettes, High Llamas...)? C: I love the High Llamas!!! And I also like die moulinettes very much. I am also very fond of Japanese artists like: fantastic plastic machine, Cornelius, Pizzicato Five, Cubismo Grafico. But I am the biggest Burt Bacharach fan in the world he is my hero!! Paolo: is Benedicte really a robotgirl? Or better, a computorgirl? is She a Casio too? where can i buy a couple? :-) Christoffer: No Benedicte is a person, and she is not for sale :) P: i read on the Xmas In May sheet You thanx Santa Claus and Burt Bacharach: Did You ever meet any of them from live? C: Only in my dreams. p: well, listening to a song like You Use to Be My Baby part II, and in a couple of other cases in Yr Music i thought of Beach Boys (without surf).. what's Yr stereo is playing recently? and what about the music tastes of Benedicte and Magnus? C: Well my stereo I splaying all sorts of music, I really like: Burt Bacharach, Nancy Sinatra, Antonio carlos jobim, Lee Hazlewood. And then I like newer bands like: High Llamas, Cornelius, Eggstone, Pizzicato five, Cubismi Grafico, Stereolab, Anthony Rochester, Die Moulinettes, Lemonheads, Dinosaur Jnr, Fantastic plastic machine, one Roses [Stone Roses? - paolo's note], Charlatans, The Mopeds etc etc etc.. I have over 300 cds and 400 vinyl albums that I I love! Its impossible to mention everyone :) I don't know what Magnus and Benedicte likes. p: what's the year in Norway? C: 2oo1 p: You know, Remington's songs are really kind of parallel between melancholic sweetness and psichedelia in space, but there's also a shadow of fun (bossanova button, the first 2 songs of Xmas in May, She Don't Lie..) C: Yes I like to mix humour in some places hehe. p: to be sincere, about bands from Norway, i could just cite Motorpsycho or Schocking Blues [are they from norway?].. and i always heard talking exclusively of blackmetal bands, referring to Yr land.. now i with Yr Cafe2oo1 compilation is completely another world (and year..). Reading the notes, i read some common surnames, collaborations, kind of a circle of friends.. C: Yes there is allot of new bands growing in Norway, and we all know each other very well. In a couple of years, when someone refers to Norway they will surely mention some café s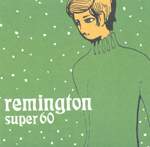 uperstar bands!! p: Hey, i have a casio too!, a SK-8, bought in early 80s, do You think i should back to play it? I'm still trying to learn when the saints go marching in. Lately, i met several bands and fanzines re-discovering Casio early-keyboard world.. for example the Moonbabies, from Sweden. How did You fall in love with tHEM? Christoffer: They are just so easy to play on, and they sound so extremely cool. You should start playing your Casio again, and if you don't I would like to buy it from you :) p: (hhmm.. maybe the 2° thing You said..), Are You and Benedicte on the pling2oo1 cover? And what about that futuristic buildings? They look taken from a Woodi Allen's movie, when he had been hibernated and he woke up in a 60's-tyle future.. C: No that is not any of us! The cover Is made by SHADO records so I don't know where they are taken from. But I really like it. p: can You tell me more about Cafe2oo1? C: Café 2001 [a record company] is a label runed by myself & Christer Jensen (from Micromars) And we will spend the rest of our life releasing New Norwegian bands that we like (and our self from time to time to hehe). //

// Very kindly, Christoffer sent me also the cd This Is The Cafe Superstar Beat, a compilation of his Cafe2oo1 (cd 14tx), a precious sampler representative of that electro-beat60s Norwegian scene, kind of Casio_friends club. The cover cd is always of that style, sincerely 60s (I know, I I'm going to repeat the year 60 just for the 60th time), a typical little low-parlour as inside picture. Opening song for Safariari (already cited on the untitled#3 of Remington), one of two very nice instrumentals, whose the ladder a very dance-floor, so it's time of Micromars, who just to state their intentions, title the 1st song Why Didn't My Parents Buy Me A Casio, and keep on listening to Micromars You recall different tunes in common with Remington, fitting passion, even if more frozen and with kind of more radio friendly attitude. Toyen, referring to the notes on the cover, has recorded his 2 songs on a Playstation (is this possible?), the first, very robotic, with a chorus which could be an unreleased climber of hit parades, sometimes a bit New Order (the danceable ones). Then here we are our heroes, the Remington, using Their tested classic game, with keybs under pitch-effects, singing always trust the samba together with Gabriele Leguina. Hey Girl has got a slow waterfall of melacholiness after a jump into space - another brilliant experience. The track list keeps on with EPA, owned if a fantastic acoustic guitar, mark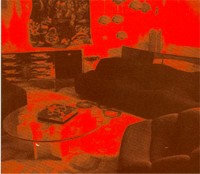 ing a placid rhythm on the voices of a Him and a Her, with cicadas who stop their song more than once. The ladder song is Fly This, another sort of relatedness with Remington sphere, their pa-pa-pa. Skistar (what a name!), drum machine, small computers, two-chords guitar and a voice on Woollen Undies, very lovable loops, and so on Mountain Code 9, where it features also a soft female presence. Another universe. The 13th track is for The Artist Formerly Known as Pasan (Prince! tremble!), very closed to the electro-wave style of 80s, quasi Marc Almond. To close in beauty, we found Anthony Rochester, another time-traveller, indeed hibernated 40 yrs ago, and unfrozen now, and without any knowledge about computer revolution. So, this is a fantastic compilation, perfect for Yr soft party with Yr best friends.

Info: www.cafe2001.net/remington // www.mp3.com/remingtonsuper60 - SHADO v. potente, 9 - 5oo18 - Sesto F.no (Fi) - Italy. // Distributed in italy through Audioglobe - v. Aretina, 240/b-c - 5o136 Firenze [www.audioglobe.it] // Automatic Kiss rec - 7 1 58 2o1 Nishijin, Sawaraku - Fukuoka 814-ooo2 - Japan
interview appeared on komakino#7, april 2oo1
Feedback:
not yet, probably nobody cares, or nobody cared enough to tell something. Also: nobody reads komakino.
Leave a feedback about this post, or don't. your sweet name:
your IMPORTANT text:
url:
icon:
will be resized 30x30pxl