 Small tribute. Personally, from my little, i think that
Jesus & Mary Chain
,
Unsane
,
My Bloody Valentine
, and
Sonic Youth
are four of the five Bands that guided me into
noise music
. Or better, These are the ones who created, redefined, and then made even brighter the primary
noise
matter. These are the first who made a great fire of distorted guitars and bass, getting mayem under control, and understood how to blow the winds of over satured feedbacks. - Ok, I said 5, because the #5 is
Distorted Pony
,
more rare than a unicorn
, - as
a blog posted last month
. - So, let's stop with flattery, give Your-self a chance to blow-up Your mind, and listen to the following mp3s, then, if You're in, keep on reading below..
ƒ¬mp3s (just a selection, dudes, i won't do all the job for You..):
__from
Punishment Room
(via
100records
):
..
Hod
..
God's List
..
Krank
..
Death in the Turnstile
and (via
builtonaweakspot
):
..
Castration Anxiety
..
Down Where the Dirt Collects
and (via
pressrandom
):
..
Plague Bed
..
Blare
__ from
Instant Winner
(via
blog
):
..
Smitten
..
Cripple
and even more rarities.. (via
homepage
):
..
Insatiable Times
- from the
Smitten
compilation
..
Jahr Null
- from
The Big One
compilation
..
Scratch Out the Sky
- from the
HURT
compilation
..
Sinners Prayer
(live) - from the
I Give You the Head of Corporate Rock
compilation
So, seen this is the first time i find all these Distorted Pony mp3s, it's a good excuse to write a small memory about Them (even if previously made on past paper issue of komakino). LA-based ensemble, lifespan 1986-1994, saw David Uskovich (aka David U, @ vcls, guitar) and Dora Jahr (aka Tricia @ bass, vocals), started recording Music with the help of a pre-industrial drum-machine (i think more of a technical consequence than a sound choice) until their first full-length release, when Robert Hammer (guitars) joined together with Theodore Jackson (aka Ted Carroll @ drumming), rendering the song-writing less goth (even if not goth!) and repetitive. The right way for intensity. In 1991 Their sound became even more complete and free when They recruit London May (later in Misfits and more); yes: a drum section and percussions together, special rattling trash-can banging. I remember They came to my attention in early 90s, thanks to a jewel entitled Punishment Room (Bomp, '92), album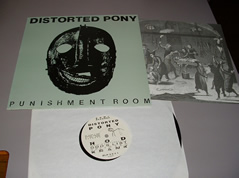 that a friend of my sister lent her, together with Star Pimp's Treasure Trail (Boner, '92). I couldn't resist from passing in on tape, and for a bunch of time i always mixed up the two above mentioned releases, because Treasure Trail's cover art featured a small minipony dismantled.. Both album were magic, although different, and if You want to know more about Star Pimp, read my past komainterview. - As regards Distorted Pony, They were a total lucid distress and desperation manifesto, Music made, - rage for the human condition, for each status quo, an absolute cynic pause from solitude. Or at least, that's what They mean to me. You can preview something of that from titles like early Work Makes Freedom (can You image anything crazier people believe in?), until last stone Instant Winner (hope of more than a nation..). Listening to Hod is like declaring war to Your-Personal-Tragedy, like a machine-gun loaded with the double drumming and percussions, the rancid satured bass line and blistering guitars like screaming out. Dora's wrenching vocals, and more post-punk and severe David's style, sing into a continuous explosion of sounds, made even more cohesive on latest release, second and last full-lenght produced by Big Black Steve Albini. I don't think They wanted to become rockstars (maybe London did..), - if You hand Istant Winner You won't even find the credits inside the booket (except for Trance Sydicate's one, King Coffey's (Butthole Surfers)), but just the lyrics.
The last track, A Fine View from the Temple is a total final bitter sip of poison; it starts with about 6 minutes of two guitar notes, in saturation, ending with the following mortal lyrics:

been a loser all my life wish i were down there too
will someone search for me
will someone say my name
will they cry on my grave
will they find my jokes and stories
the jokes that say "i'm lonely" and stories of no hope

I got an email from Ted Carroll some years ago, in 2003 to be precise.. - He wrote me bacause He found my mve links page where i cited Distorted Pony between my ethernal loves. and how happy i've been to get that message, and You know, only my sister could understand my excitement, because none of my friends knew yet this Band. It's unbelieveble how a Gem like that has been so ignored. Even at AllMusicGuide there are just a few generic lines about Them. What a shame! And while at myspace, there's a spartan fan page (i guess it is..), the domain distortedpony.com features a "new design available shortly" since ages (if i remember well, this is maintened by a fan, too)..

Here You are some cut&paste, a part of Ted's message:

"[..] After DP. I played in a short lived pop band with Steve, from Slug (you may have heard of them) called Go-Kart. We put out a couple of singles, and I think their are several other bands of the same name. Trisha played in a band called SaraSpodin, same thing... a few singles.


David is in Austin, Texas now, put out a few records with a band called Sweetpea and is now playing in a band called Switchhitter [see below for mp3s].
London has played in several metal-esque bands, including a few Danzig inspried bands, but he sued us and we have no contact [i cut the rest, - anyway Ted is not exactly happy of London..]"

Ted was very nice with me, He also offered some help for distribution and putting some show together in usa (i'm still dreaming..), and added "Do you know of Uzeda? They are an italian band that I used to be friends with and have lost contact."

Instant Winner is maybe the only still availble record from all their discography, - just surf the net. Maybe You have a chance with Punishment Room at Bomp rec, have a try (the label puts the band into industrial..); - the rest is nearly impossibile to find, if not of second hand. And, if You ever have or find a picture of Them, please, send it to me, - i never saw Their faces..

Discography:



1990
Concrete Bruises 7-inch (Piece of Mind/K)
v/a Demolition Scare 7-inch (Demolition)


1991
Work Makes Freedom 12-inch (Bomp)
v/a The Big One (Flipside)
v/a HURT (Braindrops)




1992
Punishment Room LP/CD (Bomp)
Dept. of Existence b/w Go Cart 7-inch (Gasoline Boost)
v/a OW! Quit it! 2x7-inch (Volvolo)
v/a I Give You the Head of Corporate Rock (Che/Pacifica Radio)


1994
Instant Winner LP/CD (Trance)
v/a Smitten CD (Karate Brand)
v/a Destination Bomp (Bomp)

199?
Trash Can School - Sick Jokes and Wet Dreams CD
(Sympathy for the Record Industry- SFTRI 147)
Features Ted Carroll on 2 tracks
1994
Go-Kart 7-inch (Jamboree/ Magnatone Products)
Features Ted Carroll with Steve from SLUG
199?
Saraspoden- 7-inch
Features Tricia Pistay
1995
Sweet Pea - Chicks Hate Wes CD (Trance- TR51CD)
Features David Uskovich
2000
SwitchHitter - Academy CD (Framed- FR!-008)
Features David Uskovich



Switchhitter:
ƒ¬mp3s (via copperpress):
__ from Fer-de-Lance ep,
.. Heavenly Exploding Cannons
.. The Story of Eurotrash
____from Academy,
... Tap Dancin' for P
... Can You Tell that I Am Punk
... Tx Luv Kit
Enjoy.
Feedback:
not yet, probably nobody cares, or nobody cared enough to tell something. Also: nobody reads komakino.
Leave a feedback about this post, or don't. your sweet name:
your IMPORTANT text:
url:
icon:
will be resized 30x30pxl