 Due album, di cui l'ultimo Money's On Fire [leggi passata komarecensio] forte della eco prodotta dalla Loro prima posizione all'mtv operazione soundwave: - 'che schifo allora!' - Ve lo sento già dire. Ma no, mtv per una volta ha fatto le cose decentemente. Oppure mi sono rincoglionito io. Scegliete Voi, ciò non cambia che The Record's hanno tirato fuori un bel disco..
Q. komakino: - Hello! Facevo zapping in tv tempo fa, e mi ricordo di aver trovato su mtv Kris and Kris [NSFW] che ballicchiavano sedute al tavolo della giuria, quindi ho continuato a guardare quella puntata di Operazione Soundwave, ballavano un Vostro pezzo! Speravo continuassero ad inquadrare Kris & Kris, ma purtroppo c'eravate ancora Voi. Alla fine non capivo se a piacermi fossero Kris & Kris o Clouds Are Moving. Cioè, in verità lo so. Ma a voi chi piace di più delle tre?
A. The Record's: Cosí ci metti in imbarazzo... le Kris, entrambe ovviamente!

Q. komakino: - Ascoltando Money's on fire mi sono venuti in mente Devo, Beach Boys, Weezer, - a parte la cover di Umbrella di Rihanna, che cover (e se) Vi piace suonare o strimpellare fra voi o con gli amici? ps. Mi vengono in mente i Fuck qualche anno fa che divennero 'famosi' per aver suonato una cover di Britney Spears..
A. The Record's: Abbiamo inserito in scaletta durante gli anni scorsi anche "It's my party" di Leslie Gore, "Back in USSR" die Beatles, "Ever fallen in love" dei Buzzcocks, "Summertime blues" di Eddie Cochran e un paio di pezzi di Joe Jackson "Throw it away" e "Stick around"

Q. komakino: - Siete il primo gruppo 'indie' italico della storia italica ad avere un clip di un Vostro pezzo usato per uno spot televisivo per la gazzetta.. di certo un record per i Record's, tanto per fare cabaret, - avete ricevuto altre proposte promozionali sul genere?
A. The Record's: Ci sono altre possibilità nell'immediato futuro per sincro del genere, ma preferiamo parlarne a risultato ottenuto..

Q. komakino: - Uscirà un video di Money's on Fire o di Clouds Are Moving? O meglio, il disco a mio parere contiene diversi hit single (Hot Spot, Rudy).. sarebbe un peccato non 'lanciarli', specie poichè mi sembra abbiate un certo gusto per l'associazione di musica & immagini (la copertina del disco sembra parte di un piano ben preciso).. tra l'altro dal disco precedente, 'A Room', era un video fatto con i piedi, anzi, con le scarpe, ma mi piaceva.
A. The Record's: Il primo singolo sarà "Clouds are moving", lunedí 27 ottobre avranno luogo le riprese del video. Abbiamo comunque intenzione di promuoverne di sicuro un secondo e la scelta è più o meno fatta, ma c'è tempo e le cose potranno prendere anche direzioni inaspettate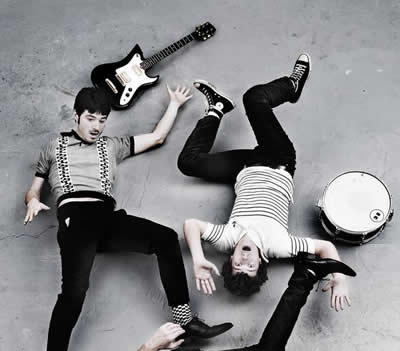 Q. komakino: - Money's on Fire - prima di leggerne il testo sul booklet, - mi sembrava quasi il payoff ideale per intendere l'aver investito denaro (oltre che sangue) nell'autoprodursi musica non necessariamente mainstream: ovvero soldi bruciati, buttati al ce_gabinetto, dalla finestra, sprecati, ma-perchè-non-ti-cerchi-un-lavoro-vero: - almeno in italia, è difficile che un disco indie/alternative si guadagni un platino (senza considerare che un platino italiano non corrisponde ad un platino americano, ma quello è un altro discorso), e con questo tocco ferro per Voi.. insomma, se non ci fossero Kris & Kris che ci proteggono dall'alto delle Loro gambe, Money's on Fire sarebbe uscito? Avrebbe fatto più rumore del Vostro esordio Joyful celebration? Era pur sempre un disco distribuito da Audioglobe, cosa che male non fa, però però.
A. The Record's: Di sicuro Operazione Soundwave ha dato visibiltà più ampia al nostro progetto, ma il disco era in cantiere da quasi un anno e l'uscita di ottobre era preventivata da tempo; la differenza con il disco precedente è che, grazie all'autoproduzione totale, abbiamo sempre il polso della situazione e siamo responsabili di successi e fallimenti, ma soprattutto dei tempi e dei modi di realizzazione e promozione del nostro lavoro, cosa fondamentale in ambito indie.. Money's ha fatto più rumore perché Joyful ha creato una certa aspettativa tra addetti ai lavori e pubblico e soprattutto perché un anno di date in giro per l'Italia ha dato i suoi frutti. E contiamo di farne molte di più quest'anno, il tour promozionale inizia tra poco..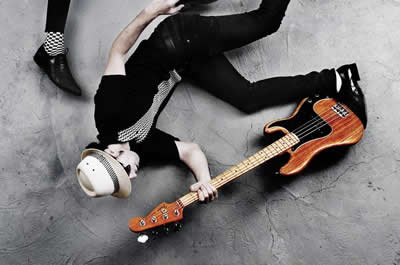 Q. komakino: - Ho letto in un'altra Vostra intervista che il disco verrà venduto solo online (e ai concerti, immagino), - avete cambiato idea nel frattempo?
A. The Record's: Sinceramente si, abbiamo capito che ora come ora una distribuzione sarebbe poco capillare e superficiale, non interessata ad un a vera promozione e quindi uno spreco di risorse per noi. Chi ci apprezza avrà molte più possibiltà di acquistare il disco ai live ad un prezzo contenuto; per tutti gli altri sarà disponibile in tempi brevissimi per il download.

Q. komakino: - Con quale canzone Vi piace aprire i Vostri concerti? Avete quella che si può definire 'un riempi pista'?
A. The Record's: Ultimamente apriamo spesso con "Rudy" giusto per far capire cosa si devono aspettare.. ma ci capita anche di ripescare pezzi del vecchio repertorio altrettanto trascinanti come "Elevator-trap" o "A room". Il riempipista è probabilmente "Lockdown".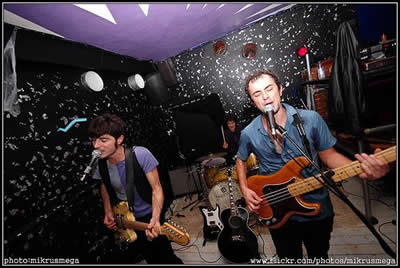 Q.
komakino: -
Avete già canzoni per un nuovo album? Forse è un pò presto, ma è la scusa per dirci che intenzioni avete per il futuro, - domanda di rito, ma necessaria.
A.
The Record's
: Guarda, se non mi fossi rotto un dito giusto ieri sera, saremmo in prove assidue per portare a termine i 4/5 pezzi nuovi. Ora che il disco è uscito abbiamo finalmente la coscenza a posto e la testa sgombra da preoccupazioni di natura organizzativa quindi penso che nel giro di qualche mese si formerà il grosso del materiale cha andrà a comporre il nuovo disco. Le nostre intenzioni sono dunque chiare: continuare a produrre musica con la maggior qualità possibile e rispettando i tempi della creatività, che nessuno sembra più considerare importanti, mentre sono ciò che permette di mantenere alto l'entusiasmo nonostante tutte le difficoltà.
Feedback:
not yet, probably nobody cares, or nobody cared enough to tell something. Also: nobody reads komakino.
Leave a feedback about this post, or don't. your sweet name:
your IMPORTANT text:
url:
icon:
will be resized 30x30pxl