ABOUT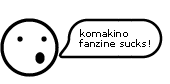 Q. In a few words:
A. komakino'zine focuses over indie Music, we love to talk about Music, we review and give exposure to those records/Bands/Artists we like (mainly indie and diy, and often invisible to the most), books, live shows, other Arts, - internet and daily-life related posts.
Q. The webzine/fanzine name is komakino and the url is www.inkoma.com
A. Yeah, the original name of this 'zine, komakino, came before I registered the inkoma.com domain; komakino.com was already taken, so I took inkoma.com; - however, the zine's name is still komakino.

Q. Short story:
A. komakino fanzine was founded on paper in 1999, in Rome, Italy: kind of fanzine, kind of personal taccuino, about noise, new-wave, shoegaze, dark, post-punk, dreampop, garage & Co. Muziq & Culture, indie & diy but not only, - born as pure expression of a lost boy and matured as pure expression of a lost young man, that is me, paolo miei cieli (aka pall youhideme), also ASP programmer and web/graphic designer by fortune...

Q. Are you that komakino fanzine of years ago, founded during the 80s...:
A. Along the years I found out there have been (and there are still!) several fanzines named after this Joy Division's song.. we are not that original, I know... who cares?

Q. so you think you are music experts...:
A. we do not, and we are not, we just like talking about the Music we love, the things we see, and we share it here, - I bought a web domain more than 10 years ago, and we like wasting our time like that.

Q. More facts:
A. komakino, paper version, used to be printed every 3/4 months until early 2002; - it counted 11 issues [read contents here, or download a PDF for #6 here], something more than 400 copies per release, distributed in Italy for free, and somehow abroad too, - via record stores, indie labels, other fanzines, mailorders, squats, radios, live shows, etc.
Later, as Internet became more and more accessible to the outer world, more than a piece of paper, komakino strictly became a web-thing, because frankly, it happened that I could not face anymore the costs and find the needed time of assembly, printing and related distribution, and - last but not least, - You know what, what's best than leaving the trees in peace?
Komakino is driven by my Passion for Music & Arts, some of my closest friends joined me here under the same flag, and some other related souls too, - nothing else, - komakino has currently no aim in making money, or demanding, - then, at least for the moment it stays FREE, and so it will, until I can still face the heavy costs of a no-for-free-life: UPDATE August 2011, TUE 9th, here it comes that komaday I felt obliged to put adverts on this fanzine: as someone sung in my youth, ''With a little teardrop and a little pearly smile / comes a little chaos and a little peace of mind.. Now, replace chaos with cash, and you'll get to the point.
Of course, if You feel like wanting to cover us with gold, feel free to support our cause, - paypal is around the corner.
Maybe Komakino can help You in giving some more exposure to Yr Muziq and other Arts and personal fight: if so, do not hesitate to get in touch.


_______________________
Last update: 2011-08-09